Aiken Mine Road in the Mojave National Preserve
Aiken Mine Road snakes through the Mojave National Preserve's famous cinder cone field as well as providing access to some of the most unique and wonderful sights this area has to offer.  On the way to see those sites, the road passes through other-worldly landscapes of basalt (dried lava) flows which are topped with Joshua trees and other abundant desert flora.  Sites to visit along the way include a lava cave that you can walk into, a hike to a Native American petroglyph site and two abandoned cinder mines where you can "drive in" to a volcano.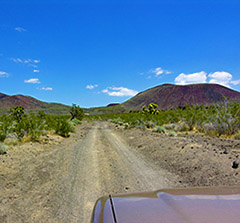 Trip Specs
The Preserve's "Back Road"
This road, that zig-zags through the cinder cones and the heart of the Mojave National Preserve, was created as a means to service the Aiken Mine and is where the road got its name.  You'll visit this mine on this trip.  Aiken Mine Road covers a lot of territory (about 24 miles) as it stretches from the pavement of Kelbaker Road all the way to the pavement of Cima Road near its junction with I-15. 
Nobody maintains the road anymore and, as Mother Nature reclaims it, it deteriorates with each passing year.  You will need a high-clearance vehicle for some rocky sections and, although you don't need 4WD, it does come in handy in a few sections.  There are several sections of deep sand where, if you stop, you may have trouble going again without 4WD.  If you're in a 2WD, be sure to keep your momentum going when you hit these sandy sections.
Cinder Cones
Aiken Mine Road cuts through some great examples of the pristine Mojave Desert.  Maintaining this natural condition is one of the main reasons the Preserve was created.  But the highlights of this road trip are the cinder cones.  Cinder cones are conical hills that are basically, mini volcanos.  The basic difference between them is that a cinder cone forms hills and a volcano forms mountains.  Also, volcanoes erupt over and over again, like Mt. St. Helens, and cinder cones typically erupt only once and then never again.  Some of the cinder cones here erupted thousands of years ago (considered "recent" in geologic terms) and others are much older having erupted millions of years ago.
There are about 35 cinder cones located in the Preserve and, unfortunately, many of them no longer have their natural appearance.  Most cinder cones have scars cut into them such as notches and roads and others have portions of them missing due to considerably mining.  This is the case with the Aiken and Cima Cinder Mines. 
The reason for the scarring is that most cinder cones had mining claims on them before the area became a Preserve.  In order for the claim owners to keep their mining rights, they had to show that they were working their claims by keeping up what is known as annual assay work.  This meant the miners had to do some type of visible work so they would cut roads or cut notches or dig holes into the sides of the cinder cones.  This practice ended when the Preserve was created in 1994 but the scars remain.  Today there is no example of a pristine cinder cone within the Preserve.  The best example of such a cinder cone is Amboy Crater, located about 15 miles from the southern boundary of the Preserve.
More…

Pictures
Below are some pictures of what you will see along the way.
Shop for

Death Valley

items
Scroll down to see and shop for Death Valley related items from Amazon.
Make sure to watch video in full screen mode and HD 1080p quality!
---
What To See
The best direction to enjoy Aiken Mine Road is to travel it from south to north (from Kelbaker Road to Cima Road).  Start at Baker and go 19.7 miles south on Kelbaker Road.  After turning onto the dirt of Aiken Mine Road, reset your odometer.  The first 8 miles passes by various cinder cones.  Along this section, you'll see a wide variety of desert plants that grow well in the nutrient-rich soil that the lava left behind.  In the spring, this is a great place to see an abundance of wildflowers.
Cima Cave
One of the attractions along the road is Cima Cave which is a lava tube that you can walk into.  At 4.5 miles from resetting your odometer, take a spur road leading left to an old corral.  Park here, then hike the short distance up a very rocky road to the lava tube's entrance.  The Park Service has recently installed a nice stairway descending into the cave.
Aiken Mine
Aiken Mine itself is located at 7.3 miles.  Here is where miners dug into one of the cinder cones and supplied "cinder" to the building industry.  The small, marble-sized cinder is used as road base, garden landscape material, in BBQ's, in cinder blocks and more.  Much of Aiken Mine's production, however, went into something rather famous – the construction of the Las Vegas Strip.  Of all the cinder used to build the walkways of the Strip, 70% of it came from this mine.  Another cinder mine, which operated until well after 1994, is the Cima Cinder Mine.  It is located a few miles north of Aiken.
Reset your odometer and continue heading north on Aiken Mine Road as it leaves cinder cone country and enters old ranch country.  Along the road, a few more corrals are passed.  One particularly nice corral and windmill is passed at about 3 miles from Aiken Mine.  Looking northwest from this location, you get a glimpse of the Cima Cinder Mine.  There is a road that leads off towards it, but it deteriorates into nothing – we've tried it, so take our word!  There is better route to get there (read on).
At 4.4 miles, a series of tricky road intersections are reached.  When you encounter a fork, bear left.  Many maps show Aiken Mine Road going straight (northeast), which is not necessarily correct.  The road going straight becomes fairly rough and comes out at Valley View Ranch.  After bearing left, in a half mile follow the main road as it loops to the left and heads almost north.
Mojave Phone Booth
It was at this intersection where a rather unusual part of Mojave Desert history occurred.  This was the site of the "Mojave Phone Booth".  Decades before the age of cell phones, the Mojave Phone Booth was originally used when the mines were in operation.  At some point, several worldwide news agencies reported on this "phone in the middle of the Mojave Desert" and it became rather famous.  We've heard that people from all over the world would call the phone booth just to see if someone would answer – and someone did!  People from all around California and Nevada would drive out to the phone booth, answer the ringing phone and talk to whoever was calling.  Supposedly, there were thousands of callers and in the late 1990's, the phone would ring off the hook!  Unfortunately, after the two cinder mines closed, the phone company saw no more use for the phone booth, so it was removed.  The only evidence that the booth was there is a withered foundation next to a corral and an old telephone pole line.
Cima Cinder Mine
At about 6.5 miles, to visit Cima Cinder Mine, turn left on a road heading due west.  This road goes around a cinder cone and heads south, ending at the mine.  Like Aiken, Cima Cinder Mine has a lot of abandoned equipment.  You can also drive into the cinder cone where it was mined.  Reset your odometer and leave the mine by taking the same road you came in on, but bear left (or straight) when the road begins going to the right around the cinder cone you passed on the way in.  Keep going straight on this well-defined but sandy road.
Cow Cove
A nice side trip and hike in this area is Cow Cove.  It is one of the most prolific Native American petroglyph sites within the Preserve.  The hike to the site is 3 miles roundtrip.  The trailhead is reached about 3.8 miles from Cima Cinder Mine.  Give yourself 2-3 hours for this hike.  The trail is on an old abandoned road that passes through more classic desert scenery and ends near the petroglyphs.  You'll have to wonder off the road to the right a bit to find them.  The petroglyphs are found on a south-facing hillside of jumbled lava rock.
Back to our road trip, reset your odometer and continue north on the road.  Bear slightly right at 2 miles.  It is very sandy along this stretch of road!  If driving with a 2WD vehicle, make sure to keep your speed up and don't stop.  At 3.9 miles, another corral will be reached.  Two windmills were used here to pump water from a well.  We've seen the windmills become increasingly damaged by the elements over the years, but we've heard that a group of volunteers have been restoring them.
Cima Road
Continuing on, the paved Cima Road is reached at about 8 miles.  Ramps to the I-15 freeway are located just to the left (north).  If you still have time left over, check out our road trip that starts here and explores sites along Cima Road.
Trip Map
Support Us
Help us fill up our tank with gas for our next trip by donating $5 and we'll bring you back more quality virtual tours of our trips!
Your credit card payment is safe and easy using PayPal. Click the [Donate] button to get started:
Like
Thanks!
You've already liked this