A Visit to Amboy Crater:
Combine this hike into the center of a volcanic cinder cone, along with a road trip over a desolate stretch of old Route 66 and you'll enjoy a full day of desert exploring. If you like being far away from populated areas (like us), then this remote region of the Mojave Desert is for you. It offers some of the most spacious and unobstructed viewscapes of the open desert terrain.
Our hike takes you into the center crater of this erupted cinder cone and then up to the rim for a fantastic, 360° view of the surrounding desert and ancient lava flows. The hike is not difficult but be aware that the entire length of it is on top of black lava rock that can get very hot on a sunny day. For your comfort, try to take this hike on a cool or overcast day.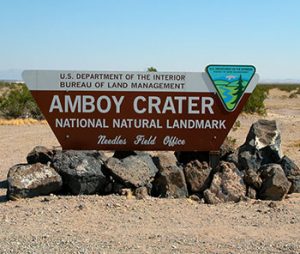 Trip Specs
Getting There
As you travel this remote section of Route 66 between Ludlow and Needles, Amboy Crater is easy to spot from far away. It is located near the town of Amboy, which has its own interesting little story. Restrooms and picnic benches are located at the crater hike trailhead.
From Barstow, go east on I-40 and exit at Ludlow. Turn right (south), towards the railroad tracks, and go a very short distance. Then turn left onto Route 66. Set your trip odometer to zero and go southeast for 26.5 miles. You'll start seeing the crater when you're about 13 miles from Ludlow. At 26 miles, you'll see a big sign on your right marking Amboy Crater. Turn right to reach the trailhead.
From the north or east, exit I-40 at Kelbaker Road and turn left (south, downhill). Set your odometer to zero and in 11.5 miles, you'll reach Route 66. Turn right (west). You'll soon see the crater in the distance and pass through the small town of Amboy. At 19 miles, you'll see the entrance on the left.
About Amboy Crater
Amboy Crater is a typical cinder cone and geologists estimate that the crater erupted sometime between 2,000 and 10,000 years ago. The basic difference between a volcano and a cinder cone is that cinder cones form hills and volcanoes form mountains. Typically, cinder cones erupt only once and then never again but volcanoes erupt over and over again like Mt. Saint Helens or Mt. Vesuvius in Italy.
Cinder cones are common in the Mojave Desert but Amboy Crater is special because, unlike most of the others, it has never been mined. It is not made of the small cinder material that gets used for landscaping or road beds and it doesn't have any special minerals like the heavily mined Pisgah Crater located 36 miles to the west. Most of the 30 or so cinder cones in the Mojave National Preserve, located roughly 50 miles due north of Amboy, have all been mined, which has spoiled the natural look of them forever. Amboy has been left untouched by man and that's one of the reasons why it was designated a National Natural Landmark in 1973.
More…
Pictures
Below are some pictures of what you will see here.
Shop for

Mojave Desert

 items
Scroll down to see and shop for Mojave Desert related items from Amazon.
Books Recommended on Amazon

The Hike
The roundtrip distance of the hike is 3 miles. The trail is easy to follow and is over flat terrain until you get to the backside of the crater. The main trail will take you into the center of the crater via a large breach (not visible from the parking area) on the west side of the cinder cone which is where all the lava once spewed out. Once inside, other trails lead up to the rim of the crater where you'll get a commanding view of the desert landscape and see the lava flows that this cinder cone once produced.
As mentioned above, this entire hike is on top of an old lava flow so try to take it on a cool or overcast day. The intense black color of the lava absorbs the heat of the sun and, on a hot day, can make your hike more strenuous. If you do hike on a warm day, be sure to take plenty of water and use the two shaded rest areas along the way to take a short break before continuing on.
Once you are done taking in the views from the rim, retrace your steps back down into the crater, out through the breach and back to the parking area. We strongly recommend that you DO NOT try taking a "short cut" down the side of the crater. It is very steep and those small lava rocks act a lot like marbles when you try to walk on them. Once you fall down and start sliding, it is likely that you won't stop until you reach the bottom.
Amboy
The small town of Amboy is just a short distance east of Amboy Crater. You may wish to take the extra 15 or more minutes to check out this little desert hamlet. It was founded as a mining town in 1858 and is one of California's oldest towns. Amboy once boasted a hefty population of about 700.
When Route 66 was built in the 1920's, Amboy became a stopover point for weary travelers crossing this large span of desert and grew into one of the classic small towns along the historic route.
Over the past few decades, Amboy has been wholly owned by private parties. It was once sold by one of its owners using eBay on the Internet. As of 2014, it is owned by the owner of a Southern California fast food chain of restaurants, who ironically also owns the very first McDonalds built, which is now a museum.
And Finally
We hope you enjoy your visit to this well-preserved example of a cinder cone. It has many of the same features you'd see at some of Hawaii's famous volcanoes but on a mini scale and without boarding an airplane!
Keep in mind that you can easily incorporate a trip to Amboy Crater and Route 66 with a visit to the Mojave National Preserve. The park's visitor center, located at Kelso Depot, is located only 40 miles from Amboy.
Trip Map
Support Us
Help us fill up our tank with gas for our next trip by donating $5 and we'll bring you back more quality virtual tours of our trips!
Your credit card payment is safe and easy using PayPal. Click the [Donate] button to get started:
Like
Thanks!
You've already liked this