Welcome to BackRoadsWest.com's Virtual Tour Guide and Blog for the Anza-Borrego region.  Wouldn't it be great if you could spend your precious vacation time doing what you love instead of searching for it?  Save yourself that frustration by using our guide to "know before you go".
Let us show you all of the amazing things there are to see and do in Anza-Borrego and then you can create your own customized vacation or day trip.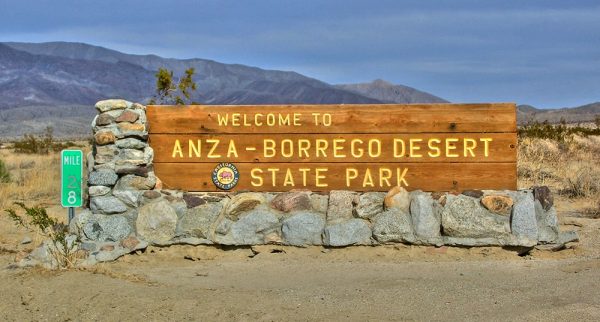 Our virtual tour guides aren't like anything you've ever seen before.  You get a comprehensive look at the area by using our virtual video tours, interactive maps and thousands of pictures.  And they are so easy to use on any device – your smartphone, tablet, computer or smartTV.
This is not your old-fashioned paper travel guide with very few pictures or maps.  It is an innovative, new kind of travel guide for the modern age.  For more information about what's included in our Virtual Tour Guides, scroll down.
The Anza-Borrego region is located in eastern San Diego County, south of Palm Springs and just west of the Salton Sea.  This desert covers a large area and includes the state park of the same name, a small resort town at its center and a large off-road park called Ocotillo Wells State Vehicular Recreation Area.  The Anza-Borrego Desert State Park itself is the largest state park in California and the second largest in the contiguous United States.
If you are someone who likes the peace and beauty of the desert, hiking through a desert palm oasis, cycling lonely scenic roads, relaxing at a posh resort, golfing at palm-tree-studded courses or driving up challenging 4WD roads, Anza-Borrego has something for you.  There is a lot to see and do here.
Road Trips

Endless Hiking

4WD Trails

Wildflowers

Resorts

Wild Geology
As you start planning your visit to Anza-Borrego, one of the things you'll notice is that the small town of Borrego Springs looks like a little round island surrounded by the Anza-Borrego Desert State Park.  That's because it's not part of the Park.  And the fact that it will never get any bigger adds to the charm of this little place where there are no chain stores or chain restaurants and not one single traffic light!  There is a kind of "retro" feel to the place with its small shops, art boutiques, hotels and cafés.  There are also campgrounds, posh resorts and golf courses nearby.
The best time to visit is in the winter or spring when the temperatures are milder.  And, after a wet winter, there can be some spectacular spring wildflower blooms.  Be sure to make the Visitor's Center your first stop so you'll know what's going on in the area.
We've got a lot more to share with you about this area and it's all included in our Anza-Borrego Virtual Tour Guide subscription.

Our progressive Virtual Tour Guides can give you a real sense of 'being there' before you ever get there. We believe that being able to see what's down that road or on that hike will help you not only plan your trip better but also get you excited to go there!
We pack a lot of useful information into our virtual tour guides and make it easy for you to just click or tap on the thing you're most interested in.
Here's what you get:
These tours are like nothing you've ever seen before and no other travel guide has it.

Our exclusive "virtual video tour" literally shows you what the trip looks like.  It's as if you're really there – driving in the car or hiking on the trail with us.  First, a map shows where the trip is relative to the area, then it zooms in to that location and becomes an animated map as it takes you through the entire trip.  Scroll down or click "Tour" above and take a virtual trip with us.

We've been to all of the places we talk about and have plenty of pictures that show you what the area looks like all along the way.

Each trip includes plenty of high-quality images and, as a subscriber, you'll be able to quickly click or swipe through the gallery to see what's in store for you when you go there.

These great interactive maps not only show you our route but also give you the ability to pan, zoom-in and click or tap on various map features to get more details.

Our interactive maps are part of the storyline for each trip and allow you to click or tap on an icon to open a small pop-up with more details about that location.

We provide you with well-organized, detailed information about a trip including with how to get there and what there is to see along the way.  You'll also get some background info on history, geology and plants and animals.
Activities Include:
Anza-Borrego offers many activities to enjoy.  For visitors seeking the great outdoors, attractions include scenic drives, rewarding hikes, colorful and unique geologic formations, rugged mountains, slot canyons, abundant desert flora, and more.  For visitors that prefer to relax and enjoy the desert air, there are several high-end resorts, complete with fine dining, swimming pools and golf courses.
(click to expand)
Whether it is on wheel or foot, the Anza-Borrego area (not just the Park) offers a lot to explore.  You can certainly see some of it in a weekend, but definitely not all of it.

The anticipation of finding out what's around the next corner is half the fun when exploring Anza-Borrego.  Is it another stunning vista or an unexpected desert oasis?

There is a variety of terrain that hiking trails take you through in Anza-Borrego.  Whether you enjoy exploring deep, dark slot canyons, hiking to native palm oasis or looking for desert flora and fauna, you'll find plenty of hiking trails to entice your feet into action and experience the unique deserts of Anza-Borrego.

There are almost endless dirt back roads to explore in the Anza-Borrego region.  Most roads lead to places of interest.  Many of the chapters in our guide focus on such roads and destinations.  Although most roads can be traversed with a stock 4-wheel drive (4WD) SUV, some roads do require more capable 4WDs with experienced drivers.

In the barrin desert, Anza-Borrego is teeming with wildlife.  Big Horn Sheep, the namesake of the region (Borrego) can frequently be spotted on several hiking trails.  Our guide will help you find the right trails to see the wildlife.

Anza-Borrego is world-renowned for its wildflower blooms.  Occurring in late winter to early spring, we'll show you where to find wildflower blooming locations.

Whether you enjoy road cycling on pavement or mountain biking, Anza-Borrego offers roads, both paved and dirt, that are secluded and often free of vehicular traffic.  Much of the terrain is flat making it easier for the "occasional cyclist".

What is a desert resort area without golf courses? Less crowded then golf courses in the Palm Springs area to the north, gold courses here offer those fantastic desert views. As of 2016, there are five golf courses in and nearby Borrego Springs.

Several resorts can also be found in Borrego Valley. Many are full-service resorts with pools, spa, fine dining and adjacent golf course. You can choose to be pampered one day and go on an exciting desert adventure the next day.
Anza-Borrego Area Tour
Below is our regional video tour of the Anza-Borrego area that will give you an idea of where different attractions are located.  Watching this video will help you see which areas interest you more than others so that you can delve into the chapter in our guide that further explains that attraction.
Subscription
Our Virtual Tour Guide of Anza-Borrego is subscription based.  To access and view all of the guide's features and chapters requires the purchase of a 6 month subscription.
Since our guide is not yet completed, we invite you to look through the entire guide for free.  This will give you an idea of what the guide will look like when it is complete.  We won't require a subscription until the guide is entirely finished.
Below, you can also subscribe to our email list.  When new content and chapters are added, you'll be the first to know, complete to a direct link to the new content.
Subscribe For Free!
While our guide is being complete, you may subscribe to our guide for free.  Clicking the button below will give you a user name and password so that you can access our guide.
Clicking [Subscribe] below will take you to our guide's Home page.  Or, just scroll down and browse trips by category.
Subscribe
Trips / Chapters
Our guide is divided into many chapters that we call "trips".  Each trip is a hike, place, road trip (both for paved and dirt roads), or points of interest.  Trips can also be categorized by topics, such as historical, geological, scenic or places.
Browse Trips by Category
The following section lists the chapters, or rather the destinations, found in this guide.  Each category is listed in the tiles below.
Mouse over the tiles (or touch them with your finger) to reveal the categories: