Little Finland in Gold Butte
Inside the newly created Gold Butte National Monument lies a very unique and little place called Little Finland.  Big cities like San Francisco have places called Little Italy and L.A. has Little Tokyo, but why would a corner of the Nevada desert have a place named Little Finland?  Well, it has nothing to do with the country of Finland, this small area in Gold Butte is literally a "land of fins".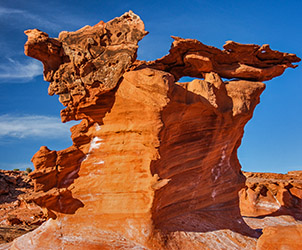 Trip Specs
Also known as Hobgoblin's Playground, Little Finland is a collection of bizarre, amazing, complex and intricate reddish/orange rock formations that were gouged out of Aztec/Navajo sandstone.  These small formations are like nothing you've seen before.  Most of the formations are no bigger than an average-sized automobile and sit up 5-20 feet tall.  Many formations have narrow fins and long protrusions sticking out of them and pointing in random directions.  Then there are wild swirls of sandstone, which are petrified sand dunes from the Jurassic period (about 175 million years ago), heading every which way.  Little Finland isn't very big; it covers just over a square mile.  In our opinion, no other park or attraction in the USA has anything remotely close to Little Finland.  One must wonder: how in the world were these things created?
Gold Butte is a national monument that was created at the end of 2016.  Its primary purpose was to preserve a large collection of Native American rock art, swaths of pure Mojave Desert and Little Finland.  It is quite remote, being sandwiched between Lake Mead to the west and south, the rugged Grand Canyon to the east and the I-15 corridor to the north.  It lies 60 (crow-fly) miles east of Las Vegas and 25 miles south of Mesquite, Nevada.  All of the sites of Gold Butte National Monument are accessed from a single 20-mile-long badly beat-up paved road.
Traveling around Gold Butte is a very remote experience.  Because of its newly acquired national monument status, visitors to Gold Butte have recently increased significantly.  However, you can very easily be the only person out there on the day you choose to visit, as we were on a recent Sunday afternoon.  There is no cell-phone service.  If your vehicle breaks down or gets stuck on the rough dirt roads, it may take a long time for you to get help.  If you go, be prepared and using a high-clearance four-wheel drive vehicle is a must.
No words can describe the formations at Little Finland.  Our virtual video tour below will give you an idea of the scenes to expect during your visit.  Although we've only explored the area about half a mile north of our parking spot, certainly if you spend more time exploring the whole area around Little Finland, more stunning scenery will be found.
Pictures
Below are some pictures of what you will see along the way.
Shop for

Death Valley

items
Scroll down to see and shop for Death Valley related items from Amazon.
Make sure to watch video in full screen mode and HD 1080p quality!
---
Getting There
Getting to Little Finland is not a walk in the park.  Navigating skills and a strong sense of direction are required.  Although a "regular" vehicle might make it most of the way, using a high-clearance 4-wheel drive vehicle is strongly recommended.  Vehicles that are not designed for rugged off-road use will simply be damaged on the roads that lead out to Little Finland.  The conditions of the roads change frequently; typically after storms.  Gold Butte is a very remote area and far from any services.  There is no cell phone service.  If your vehicle becomes stuck in a gully or breaks down from being beat-up on the rugged roads, it will be a major ordeal to get help and will be very expensive.
Start your trip to Little Finland (and Gold Butte in general) by taking I-15 to the Riverside/Bunkerville exit, which is SR 170.  Take it south down the hill for 3 miles.  Just after crossing the mighty Virgin River, turn right onto Gold Butte Road (also labeled Gold Butte Back Country Byway).  This is the beginning of the long beat-up paved road.
Continue on the paved road for 21 miles.  At 21.1 miles, the pavement ends and an intersection is reached.  This area of colorful rock formations is known as Whitney Pocket.  Reset your odometer and continue straight (south) on Gold Butte Road.
At 3.9 miles, there is a road that leads to the right.  Take this road as a shortcut to Little Finland but passes a stop at Devil's Throat, which is an impressive and deep sink hole.  Only use this road if you feel comfortable driving in deep sand and through a rugged desert wash.
If you don't take the road at 3.9 miles, continue and follow the sign to the right for Devil's Throat at 7.2 miles.  After stopping at Devil's Throat, reset your odometer again and continue on the road that leads west.
Both roads connect together again after about 3 miles.  After about 4 miles from Devil's Throat, the road passes close to orange sandstone rock formations.  If you look close, you may spot some petroglyphs in this spot.  Continue following the road, which meanders down the main drainage or wash – stay mainly on the right side of the wash.
About a mile further, you will spot a wooden corral (series of fences).  You can park here and hike approximately 0.7 miles to Little Finland.  There is no defined trail but plenty of people hike from here any you might be able to follow footsteps or a faint trail.  You will also avoid an 8 mile round trip to the base of Little Finland.
To continue by vehicle, continue down the wash.  At just over 2 miles from corral, you'll see a major drainage come in from the right with a road in it.  Turn right here.  At this point, you will also now be going to opposite direction then you were headed when at the corral.  Continue up this road for another 2 miles, passing a few obstacles where 4WD is required, until it ends at a small parking area.  Watch the video tour on how to climb up to Little Finland if you park here.  You can also turn left on a faint road just when you first see the fault scarp (small cliff) that Little Finland sits on, which will take you up and over the scarp and gives you easier access to Little Finland but it is a further walk.
See our map below pointing out the way points described above.
Map
Support Us
Help us fill up our tank with gas for our next trip by donating $5 and we'll bring you back more quality virtual tours of our trips!
Your credit card payment is safe and easy using PayPal. Click the [Donate] button to get started:
Like
Thanks!
You've already liked this