Have you ever heard of Anza-Borrego? Many people we know have not.  With so many amazing natural places in California like Yosemite, Lake Tahoe, Big Sir, Death Valley, etc., who would guess that there's yet another scenic place to go visit and experience?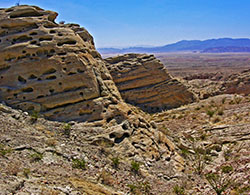 The Anza-Borrego region is located in eastern San Diego County, south of Palm Springs and just west of the Salton Sea.  This desert covers a large area and includes the state park of the same name, a small resort town at its center and a large off-road park called Ocotillo Wells State Vehicular Recreation Area.  The Anza-Borrego Desert State Park itself is the largest state park in California and the second largest in the contiguous United States.  In this article, we'd like to introduce you to the Anza-Borrego area and tell you about some of its attractions.
If you are someone who likes the peace and beauty of the desert, hiking through a desert palm oasis, cycling lonely scenic roads, relaxing at a posh resort, golfing at palm-tree-studded courses or driving up challenging 4WD roads, Anza-Borrego is for you.  There is a lot to see and do here.
The Other Death Valley
We sometimes call Anza-Borrego the "other Death Valley" because it is similar to that desert in many ways but it has its own unique beauty, too, with things that Death Valley doesn't have.  And, because it's not as well-known, it's a lot less crowded which is another good reason to go there.    
Like any desert, it gets very hot in the summer so the best time to visit is in the winter or spring when the temperatures are milder.  And, after a wet winter (like this one), there can be some spectacular spring wildflower blooms.  This area is part of a very unique desert sub-region called the Colorado Desert that sits in California and is part of the larger Sonoran desert that covers a whopping 120,000 square miles of the United States and Mexico.
More…

Pictures
Below are some pictures of what you will see along the way.
Shop for

Mojave National Preserve

 items
Scroll down to see and shop for items on the Mojave National Preserve from Amazon.
Books Recommended on Amazon
Planning Your Trip
As you start to plan your visit to Anza-Borrego, one of the things you'll notice is that the small town of Borrego Springs looks like a little round island surrounded by the Anza-Borrego Desert State Park.  That's because it's not part of the Park.  And the fact that it will never get any bigger adds to the charm of this little place where there are no chain stores or chain restaurants and not one single traffic light!  There is a kind of "retro" feel to the place with its small shops, art boutiques, hotels and cafés.  There are also campgrounds, posh resorts and golf courses nearby.   
When planning your trip here, we recommend that you stay at least two nights.  Then you can have one whole and two half-days to explore.  Three nights would be even better.  From most places in Southern California, it takes 2-4 hours to travel to Anza-Borrego.  Once in the quaint little town of Borrego Springs, your first stop should be the Visitor's Center which is located on the west side of town.  It's very well done and you can learn more about the area, its environment, history and what there is to see.  The helpful Rangers can recommend different hikes depending on your energy level and current conditions.  A walk around the Center itself has many of the types of desert plants and trees unique to the Colorado Desert.
Places To Visit, Activities To Enjoy
After browsing through the Visitor's Center, there are a number of places to enjoy near Borrego Springs.  Most deserts provide expansive views and Anza-Borrego is no different.  Fonts Point offers a view down into one of the most unique landscapes of any desert – the Borrego Badlands.  These highly eroded hills, made up of millions of years of deposits from the Colorado River and then uplifted by the San Andreas Fault system, makes for one dazzling display.  On a sunny day, arrive here early in the morning or late in the afternoon and the mixture of shadows and low-angle light is surreal.
Other activities to enjoy close to town include several hikes and driving past some larger-than-life, rusty metal sculptures.  One of those hikes, that heads up Borrego Palm Canyon, is very popular and leads to a palm oasis.  Another hike that is becoming very popular is called "The Slot".  The metal sculptures are done by a famous artist and cover a lot of different subject matter; from immigrant farm workers laboring in a field to a giant scorpion and grasshopper fighting it out.  You can view the sculptures by driving north or south from the center of town.
Cycling is another popular activity around Borrego Springs.  With its flat terrain, great scenery and dozens of less-traveled paved roads, using a bicycle is a great way to explore the area.
As we mentioned, Anza-Borrego can have some extraordinary wildflower blooms.  If there was ample rainfall, try to plan your trip for the early spring (February and March) and you might get lucky enough to see one of Nature's most dazzling displays of color.
There are also lots of places in Anza-Borrego to explore with either your two feet or your 4 wheels.  So many, in fact, that you won't be able to see them all unless you stay longer than 3 or 4 nights.
Inspired to visit Anza-Borrego?
Check out our comprehensive travel guide on Anza-Borrego.  Use it to plan your visit by learning and seeing what there is to see in this little-known corner of California.
Learn more at: http://www.backroadswest.com/anza-borrego
Support Us
Help us fill up our tank with gas for our next trip by donating $5 and we'll bring you back more quality virtual tours of our trips!
Your credit card payment is safe and easy using PayPal. Click the [Donate] button to get started:
Like
Thanks!
You've already liked this