Go on a driving tour along the western half of the Denali Highway in Alaska, near the entrance to Denali National Park and see the amazing and brilliant fall colors which normally peaks in late August.  Denali Highway (Hwy 8) was the original dirt road built in 1957 to access Denali National Park and Denali, the tallest mountain in North America.  After the paved George Parks Highway (Hwy 3) was completed in 1971, Denali Hwy no longer sees much traffic.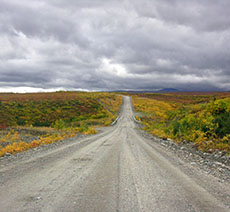 One of the attractions to Denali Hwy is access to a large remote area in central Alaska.  Unlike Hwy 3, which is lined with tall trees often limiting your views of the spectacular Alaska scenery, Denali Hwy passes through large forests of stunted-growth trees allowing you to see the wide and long vistas Alaska is known for.
Another attraction to touring Denali Hwy is seeing the unique fall colors that Alaska offers in the early fall – which is typically late August.  Instead of the familiar fall colors of trees that everybody flocks to see in New England, the ground-hugging tundra of Alaska turns color and produces stunningly bright yellows and reds.  Better yet, because of those big vistas, you can see these colors for many, many miles.
Since Denali National Park is a major attraction to tourists in Alaska, chances are that you'll be staying for several nights in that area.  There are several hotels and restaurants located near the park's entrance.  A trip on the western half of the Denali Hwy is a great way to spend an entire day away from the crowds of the national park and enjoy more genuine Alaska scenery, while not venturing too far away from where you are staying.
Getting There
This tour covers the western half of the Denali Hwy.  We did not travel the eastern half which runs between the Susitna River and Richardson Hwy (#4).
For anybody from the lower 48 States, keep in mind that the driving distances in Alaska are overwhelming. Also keep this in mind when you are trying to second guess the available fuel left in your vehicle.
If you are renting a car like we did, realize that most rental car companies require that you sign a contract that states you will not drive the car on several dirt roads, including the Denali Hwy. Don't tell anybody, but we did anyways. When we turned off Hwy 3 and started our adventure on the Denali Hwy, we didn't find any "rental car police" making sure we didn't drive their car on what we thought was going to be a treacherous road (it certainly wasn't).
More…

Pictures
Below are some pictures of what you will see along the way.
Shop for

Death Valley

items
Scroll down to see and shop for Death Valley related items from Amazon.
The Road
The junction of Hwy 3 and Denali Hwy (#8), which is where you will begin your adventure on the western half of Denali Hwy, is located 27 miles south from the entrance to Denali National Park and about 210 miles north on Hwy 3 from downtown Anchorage.
Once on Hwy 8 heading east, the pavement ends after about 2.5 miles. Hopefully you enjoy driving on dirt roads with lots of pot holes. This is probably why rental car companies do not want their patrons driving their cars on this road in fear of damaging the car's suspension. So when driving on some of the loooonnng straight sections of Hwy 8, keep a constant lookout for pot holes and try keeping your maximum speed to around 35 mph.
From Hwy 3, the bridge over the Susitna River is reached in 54 miles. If you want to continue on to the eastern end of Hwy 3, you can continue another 80 miles to reach Richardson Hwy (#4).
Most of the scenery we enjoyed was reached about 25 miles from Hwy 3. However, the whole 54 mile stretch was absolutely beautiful.
Trip Map
Support Us
Help us fill up our tank with gas for our next trip by donating $5 and we'll bring you back more quality virtual tours of our trips!
Your credit card payment is safe and easy using PayPal. Click the [Donate] button to get started:
Like
Thanks!
You've already liked this