For this trip, we are venturing beyond the southwest, so far west that you'll find us on the west side of the Pacific Ocean hiking on Franz Josef Glacier in New Zealand.  Whether it's summer or winter from where you're reading this, the trip you're going to take with us will definitely be an icy experience.  So sit back and enjoy this visually stunning corner of New Zealand's South Island.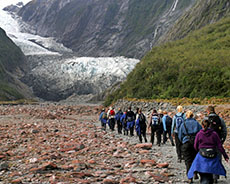 Rare when compared to other glaciers in the world, Franz Josef Glacier reaches from the rugged Southern Alps to almost sea level and is fairly easy to reach for most people.  Franz Josef Glacier descends from lofty mountain heights down to below 800 feet above sea level.  The bottom part of the glacier passes through a temperate rainforest which is not common for glaciers.
Getting There
Franz Josef Glacier is located near a small town of the same name – Franz Josef. This small outpost is located in one of the more isolated regions of New Zealand's South Island. It is situated approximately halfway along the west coast making it convenient for travelers to use as an overnight stay. There are a number of hotels and eateries that cater to travelers.
There are a number of tour operators in Franz Josef that will take adventurous people on a hiking tour of the glacier. Feeling a little adventurous, we decided to do just that. Our accompanying virtual tour will take you on the icy and challenging hike we took that you can watch while sitting back with a hot beverage in your hand.
If you're not up for such an adventure, there are several other ways to enjoy the glacier and the snowy alpine mountains close by. There are several companies that offer helicopter tours of the glacier. Many of these flights can include a landing high in the mountains so that you can walk around on the glacier. There's also an option to go on a longer guided tour for a few hours and then catch another helicopter back down. You can also just drive up close to the glacier and hike the roughly one mile to the glacier's toe. But if you're not on a guided tour, you cannot get close or walk on the glacier as it is very dangerous.
More…

Pictures
Below are some pictures of what you will see along the way.
Shop for

Franz Josef

 items
Scroll down to see and shop for items related to New Zealand's Franz Josef Glacier from Amazon.
The Hike
As we learned while visiting, a glacier is always moving. Franz Josef is a fast moving glacier compared to the other glaciers in the world because it is situated on a steep slope. Along the path of the Franz Josef, there are several steep drop-offs in the natural terrain below the glacial ice. These drop-offs form "ice falls" on the glacier's surface which creates the jagged texture seen in our virtual tour. They also create those scary deep crevices. Many glaciers move around a foot per day, but Franz Josef is considered a fast moving glacier, sometimes moving up to several feet per day. Often, when a glacier moves suddenly, it lets go of a noise similar to a shotgun blast, which we heard a few times while on the glacier. Franz Josef is also unique when compared to other glaciers because it has retreated and advanced large distances in the past 200 years. Over the past 10-20 years, its length has not changed much.
Once we walked to the toe of the glacier, we strapped the crimp-ons on to our boots so that we wouldn't slide around on the ice – a very important thing. Every day, people working for the tour company carve out new steps and a walking path for all the hikers because often the steps from the previous day melt or crack away. It's quite a site to see the steps you have to climb up the toe of the glacier.
After we climbed the face of the glacier, it was pretty easy walking. In flat areas, much of the ice was covered by dirt and rock that was carried down. Glaciers act like giant conveyer belts carrying rock down from the mountains above. Once we got to the ice fall area, our guide had to carve out new paths through the maze of craggily ice. At a few points, he found some narrow passage ways for us to squeeze through. He instructed us that if we got stuck, our body heat would melt us out. When we were squeezing through the narrow slits, we thought of those gunshot sounds heard earlier from the millions of tons of ice moving a short distance and hoping it wouldn't happen now!
Our hike up Franz Josef Glacier was an experience we will always remember. The shapes and color of the glacial ice is truly surreal. Luckily, the hotel we stayed at had a hot tub. That day, we agreed that it never felt so good submerging our aching bodies into hot bubbling water!
Planning a trip to New Zealand's South Island?  Check out our sample guide at our website.
Trip Map
Support Us
Help us fill up our tank with gas for our next trip by donating $5 and we'll bring you back more quality virtual tours of our trips!
Your credit card payment is safe and easy using PayPal. Click the [Donate] button to get started:
Like
Thanks!
You've already liked this