With the creation of the new Sand to Snow National Monument on Feb 12, 2016, we decided to check out one of its access points near Yucca Valley, California.  We choose to hike up Pipes Canyon near the tourist attraction of Pioneertown.  This allowed us to enjoy an almost full day of hiking and the rest of the afternoon to enjoy walking around and eating dinner at Pioneertown.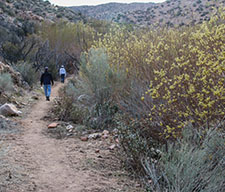 Three new National Monuments were designated in California and all of them are in San Bernardino County.  One of those new monuments, the Sand to Snow National Monument, really makes sense and so, two days after its designation, we decided to check it out.  This new Monument is located close to Palm Springs and just west of popular Joshua Tree National Monument.
Sand to Snow National Monument
The Sand to Snow National Monument encompasses an eastern chunk of the San Bernardino Mountains and includes Southern California's highest peak, San Gorgonio Mountain, at 11,503 feet.  Looking west to east on a map, it runs from the border of Joshua Tree National Park, all the way to the towns of Angeles Oaks and Forrest Falls near Yucaipa.  Looking south to north, it stretches roughly from Interstate 10 to Pioneertown.
Also included in this National Monument are several private preserves that are owned and managed by the Wildland Conservancy, who were big advocates in creating this new monument.  Twenty years ago, the Conservancy created the Sand to Snow Wilderness Interface Project that connected several wildlife corridors and vegetation linkages.  When this new monument was designated, the project already included over 60,000 acres of land that had been acquired through private funding.
Our visit to the new monument was via the access point at the Conservancy's Pioneertown Mountains Preserve Visitor Center.  There are several hiking and equestrian trails here that offer easy access into the monument area.  We chose to hike the Pipes Canyon Trail.  The trailhead is located just 4 miles from the tourist attraction of Pioneertown which was built in the 1940s by Roy Rogers and friends as a "live-in" motion picture set.
More…

Pictures
Below are some pictures of what you will see along the way.
Shop for

Death Valley

items
Scroll down to see and shop for Death Valley related items from Amazon.
Make sure to watch video in full screen mode and HD 1080p quality!
---
The Hike
Pipes Canyon and much of the Preserve was decimated by a lightning-caused fire in 2006 so we were expecting to see a landscape of destruction and burnt Joshua Trees.  We were wrong.  Nature is forever moving forward and we got to see how well the landscape was recuperating from the fire.  Underneath fallen carcasses of charred Joshua Trees, we saw small shoots of new Joshua's, no taller than a foot, growing out of its burnt trunk. 
Pipes Canyon is located in a habitat transition zone between the Mojave Desert and the Transverse Ranges.  This means that you'll find many different types of desert plants, like cacti, growing alongside mountain type plants such as pinyon pines. Pipes Canyon also has a hidden riparian habitat with many rocky outcroppings.
We started our hike on a sandy trail, looking up at the snowy mountains in the distance, which was an appropriate scene for a monument named "Sand to Snow".  The best part about the hike is that it was on a very well-maintained trail.  No guessing on which way to go.  The folks that maintain the Conservancy did a great job of building the trail which is completely lined with rocks.  The hike climbs gradually as it follows along the edge of a perennial creek in the wash of the canyon.  It passes through a few riparian areas full of thick reeds and willows.  No machete is required to cut a swath, though, because the trail passes right through it.  The trail is about 2 miles one way and along the way you'll also see some Native American petroglyphs and pass by some old ruins.
Pioneertown – After the Hike
Visiting Pipes Canyon and this section of the new Sand to Snow National Monument makes a great day trip from many points in Southern California.  You can spend half the day hiking the trail and enjoying the scenery and then drive down to Pioneertown and enjoy walking through a bit of western history.  Before heading home, be sure to stop by Pappy & Harriet's Pioneertown Palace for a drink or a good meal.  Several rock 'n roll legends, including Eric Burdon (The Animals, War) and Robert Plant (Led Zeppelin, The Honeydrippers), have been known to show up here and occasionally stand in with the house bands.
After leaving the Pipes Canyon area, turn right onto Pioneertown Road.  Pioneertown will be on your left in about 4.2 miles.  Turn left into the parking area near Pappy & Harriet's.  The "main drag" of Pioneertown is behind Pappy & Harriets and is fun to walk down.
Getting There
If coming from I-10, get to Pipes Canyon and Pioneertown by taking Hwy 62 to Yucca Valley and 29 Palms.  From I-10, continue on Hwy 62 for 19 miles.  Turn left onto Pioneertown Road.  Continue for north for 7.5 miles, passing Pioneertown, to Pipes Canyon Road.  Turn left and you'll see the sign for the Preserve.
If coming from the High Desert (Apple Valley / Victorville) head towards Lucerne Valley on Bear Valley Road or Hwy 18.  Head straight to the 4-way stop sign (don't continue to Big Bear) and continue on Hwy 247 for 39 miles to Pipes Canyon Road, which is at the bottom of a huge dip.  Turn right and the road ends 7.5 miles later at the trailhead parking lot.
Trip Map
Support Us
Help us fill up our tank with gas for our next trip by donating $5 and we'll bring you back more quality virtual tours of our trips!
Your credit card payment is safe and easy using PayPal. Click the [Donate] button to get started:
Like
Thanks!
You've already liked this