A Visit to Point Reyes:
Just north of busy San Francisco is a quiet, peaceful seaside region known as the Point Reyes National Seashore.  With its many bays, inlets and estuaries, the Point Reyes area offers plenty of scenic places to explore.  There are also dozens of sleepy little towns tucked into the rolling, forested hills here.  Point Reyes is amazingly unpopulated when you consider that it's only 30 miles from the northern side of the Golden Gate Bridge.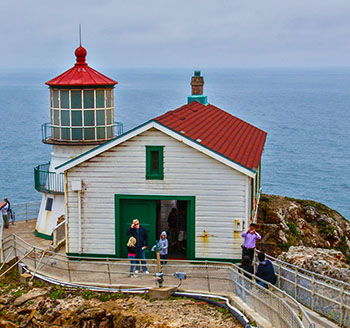 Being close to the major tourist hub of San Francisco makes Point Reyes a day trip for lots of people but it is difficult to really take in this area in just one day.  A visit to Point Reyes should be planned as a destination rather than a side trip.  It is a great place to spend 3 or 4 relaxing days after visiting hectic San Francisco or doing too much wine tasting in nearby Napa and Sonoma Counties.
Point Reyes National Seashore is a unit of the National Park Service.  Currently there is no use fee which is a little surprising considering what a great job the NPS does of maintaining all of the park's assets.  This includes the numerous attractions, visitor centers, beaches and dozens of great hiking trails.  One of those attractions is the Point Reyes Lighthouse and another is the well-preserved Pierce Ranch.
The average high temperatures in the summer months on Point Reyes are amazingly cool.  In July and August, the average high is only 57° (14° C) thanks to frequent fog.  Bring a jacket!  The warmest months are September and October with an average high of 61° (16° C).  This is also the time when the area experiences the least amount of fog.  So, the best bet for the most sunshine is to plan your trip for one of the fall months.
Planning Your Visit
A good place to start your visit to Point Reyes is the main NPS visitor center near the small town of Olema.  The Bear Valley Visitor Center has some nice exhibits about the nature in the area.  Information and rangers at the center can help you learn what there is to see and enjoy, as well as how to get there.  Another great tool is our virtual video tour (see below).  We'll show you some highlights of the area as well as where those places are located.
There are tons of outdoor activities to enjoy in and around Point Reyes starting with the dozens of hiking trails.  They traverse many variations of terrain and scenery and mountain bikes are allowed on some of them. 
Because of the many estuaries, there are miles of calm waters to explore by kayak or canoe.  And, of course, all that water attracts birdlife so bird watching is a popular activity.  There is plenty of other wildlife roaming around, too, including herds of tule elk.  Tule elk are a subspecies of elk found only in California in the Owens and San Joaquin Valleys and on Point Reyes. 
The roads in and around Point Reyes are very scenic and traffic is very light which makes taking a road trip a delight whether your hands are on a steering wheel or the handlebars of a motorcycle.
There are a number of hotels and B&Bs scattered around the Point Reyes area.  Most are located near the towns of Point Reyes Station, Inverness, Olema and Tomales.  The same goes for eateries.  Point Reyes Station is the biggest town with the most businesses and is centrally located.  For campers, there are several campgrounds scattered around, but only "hike-in" campgrounds in the park.
One word of warning: there are very few gas stations.  If you are running low on fuel, don't think there will be fuel available just down the road.  There are probably more gas stations in our desert regions than in the Point Reyes area!  And expect to pay high prices, too.
More…

Pictures
Below are some pictures of what you will see along the way.
Panoramic view of historic Pierce Ranch dairy
Shop for

Point Reyes

 items
Scroll down to see and shop for items related to Point Reyes National Seashore from Amazon.
Books Recommended on Amazon
Point Reyes Lighthouse
The lighthouse seems to be the most popular attraction in the park.  It is located on the very tip of Point Reyes itself and is only open during set hours.  During certain times of the year, the road to the lighthouse is closed and a shuttle bus is required to get to it.  Once there, the lighthouse is another half mile on foot with a portion of that distance on steps.   Inquire on their website (www.nps.gov/pore) or visit the Bear Valley Visitor Center before driving all the way out there.
The drive out to the lighthouse is very scenic.  It passes through a couple of historic dairies that are still operating.  It also passes by access points to a few beaches and Drakes Estero, the location of a controversial oyster farm.  There are several oyster farms located outside the park on the west side of Tomales Bay along Hwy 1.
Tomales Point
At the north end of Point Reyes National Seashore is Tomales Point.  This is where the historic Pierce Point Dairy Ranch is located.  It operated from about 1850 until 1966 and the kiosks here give you a good sense of what is was like to live and operate a business way out on this isolated point of land.  It's an interesting story and the old buildings are beautifully weathered and quite picturesque.
There is a fairly easy hiking trail that is easy to follow and starts at Pierce Point Ranch offering great views of both the rugged coastline on the left and Tomales Bay on the right as you walk along a narrow strip of land.  As you hike, keep your eyes open for tule elk.  There is a sizable herd that lives on Tomales Point and we saw several elk (relatively close up) on this hike. 
Road Trip
If you are looking to spend some time road touring, a trip on Hwy 1 from Point Reyes Station north along Tomales Bay is a must.  Tomales Bay is the long and skinny bay that creates the northern boundary of Point Reyes.  Along the bay, you'll see many rustic buildings and sweeping views of the area.
When you see the bay, you might wonder how this straight and skinny body of water came to be?  It was created by the San Andreas Fault.  The bay is the fault itself.  In fact, for decades, it was thought that the epicenter of the great 1906 San Francisco quake was located near Point Reyes Station.  Just recently however, scientists now say it was close to Daly City.
Another nice drive is to follow the twists and turns of Limantour Road to its end at Limantour Beach which then gives you access to another estuary and several hiking trails.  It also climbs through the highest elevation in the park and passes through a thick wooded area.
These are just a few of the things to do in and around the Point Reyes area.  We are hoping to return soon to this region to explore the areas we didn't have time to visit around Point Reyes.  Thank you for joining us on this "virtual visit".  We hope you enjoyed it and that you are inspired to go see this beautiful, tranquil region for yourself.
Trip Map – points mentioned in this article:
Support Us
Help us fill up our tank with gas for our next trip by donating $5 and we'll bring you back more quality virtual tours of our trips!
Your credit card payment is safe and easy using PayPal. Click the [Donate] button to get started:
Like
Thanks!
You've already liked this