A Visit to White Pocket:
Located along the Arizona/Utah border and within the relatively new Vermillion Cliffs National Monument is a field of twisted and colorful sandstone known as White Pocket.  This area has recently become more popular because of a very famous nearby attraction known as "The Wave". Photographers from around the world are familiar with The Wave as a place for stunning sandstone patterns and formations.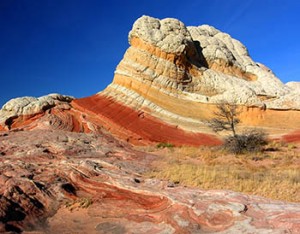 We first learned about White Pocket while visiting the BLM visitor center in St. George, Utah.  Being photographers, we first asked about The Wave.  The very helpful staff at this facility explained the process that you have to go through to get a permit to visit The Wave.  Only 20 permits are given per day.  Half of them are available on-line (3-4 months in advance) and the other half are part of a lottery that happens every day.   Some days there are hundreds of people in the lottery for those 10 permits!  The staff then told us about another place that's not too far from The Wave that is just as spectacular and doesn't require a permit.  The catch is that it requires a good 4WD vehicle with an experienced driver and someone with sharp navigational skills.  It is even labeled on most maps – White Pocket.
The directions to White Pocket even have some parallels to directions to The Wave.  Accessed by the same road, you can take a car to The Wave and reach it via a 3-4 mile long hike.  White Pocket, however, requires a much longer drive on a rough 4WD road with very deep sand but only requires a hike of half a mile.
A 4WD Adventure
Do not attempt driving to White Pocket unless you possess the following:
A reliable 4 wheel drive vehicle with high clearance
Experience with driving in deep sand
Experienced with off-road navigation and a good sense of direction
Have the ability to lower the air pressure in your tires (down to 15-20 lbs) and able to pump them back up again with a portable compressor
The reason your vehicle will need high clearance in the deep sand is that some portions of the road tracks in the sand have a high crown and, if your vehicle isn't high enough, the chassis will drag in the sand which will further hinder your efforts.  Plus, lowering your tire pressure will lower your vehicle.  Remember – when you are in the deep sand, keep your forward momentum going – don't stop!  And just to make it all a little more interesting, one of the deep sand areas is uphill plus there are rocky outcroppings mixed in with the sand that you have to watch out for.  You will also need to stop occasionally to open and close cattle ranch gates while trying to not stop in the deep sand.  Does this sound challenging yet!?
Also be advised that roads in this part of Utah and Arizona can be very muddy and treacherous if they are wet from a melting snow pack or long periods of rain.  They can be so slippery that you loose all traction and your ability to steer.  Even 4WD is rendered useless – we've experienced this ourselves.  The deep sand on this road, however, actually improves after a light rain because the sand hardens.  Dry sand is more challenging.  So, winter and spring are not desirable months but late fall is good.  Be aware of the past and future weather conditions before planning your trip.
This area is also far from any town that has towing services so being rescued from the road to White Pocket will undoubtedly be an expensive experience.  We highly recommend that you travel with another 4WD vehicle – like we did.
More…
Pictures
Below are some pictures of what you will see along the way.
Panoramic view showing the center of White Pocket
Shop for

Bryce Canyon

items
Scroll down to see and shop for Bryce Canyon related items from Amazon.
Books Recommended on Amazon
Getting There
If coming from the pavement of US 89 from the north, turn right onto the dirt of House Rock Valley Road (BLM road 1065) which is 38 miles from Kanab, Utah or 35 miles from Page, Arizona.  Reset your odometer to zero and continue south through a narrow valley.  In 8.4 miles, you'll arrive at the parking area and trailhead for The Wave and the famous slot canyon of Buckskin Gulch.  Continue south and soon you'll cross the border into Arizona.  At the 20 mile mark, turn left (east) onto BLM 1017.  You'll start driving through a forest of junipers.  At about 23 miles, be careful to follow 1017 by bearing slightly right at an intersection.  At 26.3 miles, there is a small ranch and you'll turn left here onto BLM 1087.
Up until this point (after turning off the highway), the road is fairly easy driving, but just after passing the ranch, the road goes through many stretches of very deep sand so pay close attention.  This is where the 4WD driving challenge begins.  Engage your 4WD at this point so that you are not surprised by any patches of sand that might sneak up on you.  If your vehicle is able to shift on the fly, be ready to shift down into low-4WD (granny-gear) if the sand is really deep.  Otherwise you may wish to shift into low-4WD ahead of time.
You can also reach BLM 1017 from the south using US 89A.  From this direction, House Rock Valley Road is either 27 miles from Lees Ferry or 13 miles from SR 67 (the road to the Grand Canyon's North Rim).  After leaving the pavement of 89A, continue north for 10 miles until turning right onto 1017 then follow the same directions above.
White Pocket
At 35.6 miles from US 89, you arrive at the parking area for White Pocket on your left.  The road ends less than a mile ahead.
Go through the entrance in the fence and, after walking through some more of that wonderful deep sand, you will soon be walking on the twisted, swirling formations of White Pocket.  As soon as you encounter the red and pinkish sandstone swirls, look for a trail on the right (north by northwest) that has been etched into the sandstone.  This trail leads to two white and yellow colored mounds but you don't have to follow the trail.  Just wander around as you like and make your way past the mounds on the right, heading north.  As you crest the incline, the view before you reveals an even more wild and contorted landscape.  It is breathtaking and you will probably do what we did – say "Wow" out loud!
Most of the unique features of White Pocket can be found within a half mile northwest of the parking area.  Some of the features to look for are the long, grooved swirls of red, pink and white sandstone, mounds of warped and colorful stone, "brainrocks" that look like heads of cauliflower, crossbedding of rock layers and, in general, sandstone gone wild!
And just about the time you get to the middle of White Pocket, you'll undoubtedly ask yourself, "What the heck happened here?" or "How did all this get formed?"  There are not many geological explanations of what happened at White Pocket but there are some good guesses.  One geologist believes that the landscape was caused by a huge sand-slide, back when this area was covered with large sand dunes during the Jurassic period (roughly 150-200 million years ago).  This slide mixed in with other layers of sand, as well as picking up already laminated layers of sand along the way, and then the whole mass became petrified over millions of years.  During those millions of years, the area around White Pocket was underwater for long periods of time, certainly adding to the chaos you see today.
Since White Pocket is at a high spot in the Vermillion Cliffs region, a clear day will bring great views of the Colorado Plateau region.  You'll see the pink cliffs of Bryce Canyon to the north as well as the tall promontory of Powell Point.  Closer to the west, you'll see the orange Coyote Buttes to the west with the depression of Buckskin Gulch in the foreground.
A visit to White Pocket will be an unforgettable experience.  The couple we took with us (in the other 4WD) had no idea what to expect (they saw no pictures previous to the visit) and were awestruck by what they saw.  Now they talk about it all the time.  We are hopeful that, because it is difficult to access, White Pocket will remain a secluded and preserved area like it was when we visited in 2012.
Support Us
Help us fill up our tank with gas for our next trip by donating $5 and we'll bring you back more quality virtual tours of our trips!
Your credit card payment is safe and easy using PayPal. Click the [Donate] button to get started:
Like
Thanks!
You've already liked this