With its massive red and white sandstone cliffs and monoliths, Zion National Park is already a special place.  But add a good dusting of snow and you'll get a place that goes from special to magical.  Visiting Zion during the winter can be a special and rewarding experience.
In the winter, it is common to see accumulated snow at Zion on the higher peaks above 5,000 feet but the floor of Zion Canyon does not see snow very often.  And when it does, you are guaranteed to see some spectacular scenery that most people never do.  As you'll see in our accompanying virtual tour (see below), visiting Zion in winter can be a whole new experience.  Our virtual tour will show you Zion during the snowstorm as well as the day after.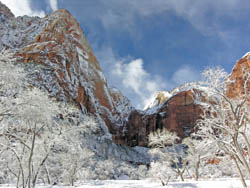 During this particular four day visit to Zion National Park, we really lucked out.  Our first two days included clear skies with cold temperatures.  We even took a quick jaunt over to Bryce Canyon, which is much higher than Zion, to enjoy its unique wintry look.  Our third day in Zion was cloaked entirely by a very big snowstorm and, on the fourth day, the clear skies returned to reveal the stunning beauty you will see in our virtual tour.
Visiting in the Winter
Visiting Zion National Park in the wintertime has many advantages.  They are:
no crowds or heavy traffic
you don't have to take the trams, so you can drive your own car into the canyon and park where you wish
there are more waterfalls running
hotel rooms in Springdale, Utah are easier to get
Just remember that the downside is:
it's pretty cold
you can't hike up Zion narrows (unless you like icy-cold water)
you might get hit with some bad weather
some businesses in Springdale are closed
Scheduling a trip to Zion to enjoy the snowy landscape can be tricky. The best months to go are probably December or January. If you have a flexible schedule, it would be best to monitor the weather for Springdale, Utah, which is the town at the entrance to Zion. Use any number of weather websites, such as Weather.com, to monitor the ten-day forecast.
When there is a good-sized storm approaching Springdale, schedule your trip either just before or right after the storm. Another good plan is to contact any of the hotels or lodges in Springdale and explain to the person at the front desk that you'd like to time your visit after a snowstorm. They can call or email you back when they know a storm is coming and will make room reservations for you. You can Google the Springdale Chamber of Commerce for a list of hotels. And the drive from St. George to Springdale is easy and not mountainous, even during a storm.
Music
Wondering through this remarkable winter landscape, one's mind can't help from humming the music of Tchaikovsky's Nutcracker Suite.  So it felt fitting to synchronize two of his best known pieces into our virtual tour.  We're sure that you'll recognize the fast moving Trepak (Russian Dance) and the graceful Waltz Of The Flowers.
More…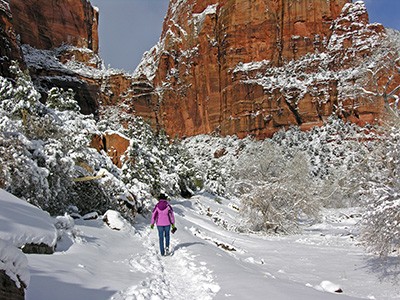 One of many ephemeral waterfalls that appear during winter (left)
Hiking in deep snow towards Angels Landing (above)
Shop for

Zion

 items
Scroll down to see and shop for items related to Zion National Park from Amazon.
Books Recommended on Amazon
Waterfalls
Just like experiencing the abundance of spring waterfalls in Yosemite Valley, Zion Canyon sprouts ephemeral waterfalls in wet weather.  Unlike Yosemite however, Zion's waterfalls occur in the middle of winter after large snowfalls or summer thunderstorms.  In addition to the falls we see normally at the Emerald Pools (which were flowing at their regular rate during the storm), we also saw one next to Weeping Rock and several more along the one-mile hike from the end of the road to the Zion Narrows.
The biggest one of these can easily be seen across the Virgin River, directly west of the parking area, and is called the Temple of Sinawava waterfall.  We saw another very tall waterfall about one third of the way along the trail on the right.  If you ever travel through Zion Canyon in the winter, be sure to watch for these short-lived waterfalls.
Hiking
When you go to Zion, you've got to get out and hike around.  Otherwise, you miss the outstanding beauty.
Since it's wintertime, make sure to be comfortable by wearing some warm clothes.  When were hiking some of the trails when the weather was good, we still needed a few layers of clothes, including under our jeans, and gloves to keep us comfortable.  Naturally, it was even more cold during and after the snowstorm we experienced!
Some of the easier hiking trails we recommend for the wintertime are Emerald Pools, Zion Narrows at the end of the road (but not the hike into the Virgin River), and the various trails that go alongside the Virgin River.  After a snowstorm, it is normal that tree branches fall down onto the road, causing rangers to close the road.  When this happens, the road becomes a great hiking trail, as we found out.  Check in at the visitors center before you start your day.
Support Us
Help us fill up our tank with gas for our next trip by donating $5 and we'll bring you back more quality virtual tours of our trips!
Your credit card payment is safe and easy using PayPal. Click the [Donate] button to get started:
Subscribe
Submit your email address and we'll notify you when there is new content.
[subscribe2]
Like
Thanks!
You've already liked this