Back Road from Apple Valley to Big Bear using 3N14:
Are you looking for a classic back road adventure in Southern California?  There are several in the San Bernardino Mountains near Big Bear Lake but one road trip in particular stands out because of its Joshua-to-Pine tree scenery.  This dirt road will take you from the High Desert town of Apple Valley to the shores of Big Bear Lake at the town of Fawnskin.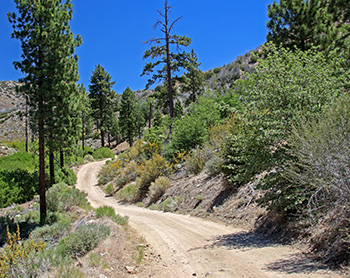 Trip Specs
The Road
The road for this trip has several names: Coxey Truck Trail, Coxey Road, 3N14, BLM 3255 and, if you read your history books, Van Dusen Road.  For this article, we'll use the National Forestry Service designation of 3N14. At times, 3N14 is a little difficult to follow, so taking a good map or GPS unit along will be handy or you can follow our directions below.
This back road, almost entirely dirt, shouldn't be traveled in an ordinary sedan.  You'll need a truck or SUV with high ground clearance but you won't need 4WD.  If you watch our accompanying virtual tour on YouTube, you'll see what the road looks like.
When you live in or near a large metropolitan area such as Los Angeles, finding a back road that takes you quickly away from civilization can be very rewarding.  After leaving the growing population of the High Desert behind, it won't be long before you are on your own rolling past open desert terrain, granite boulder fields, green meadows and, finally, pine tree forests.  And you will see very few people along the way.
History
The road between Apple Valley and Big Bear has a long history.  In 1855, gold was discovered in Holcomb Valley, which is just north of Big Bear (which was known as Bear Valley back then).  Slowly, an increased flow of miners and settlers began traveling to the area and they were hindered by the steep and treacherous roads up the south side of the San Bernardino Mountains.
In 1861, the San Bernardino County Supervisors and merchants in Holcomb Valley made a deal with an area blacksmith named Jed Van Dusen to build a road from Bear Valley down to the top of the Cajon Pass where it would connect to a new toll road that was being built through the pass.  This would be a longer route for the people coming up from the L.A. Basin because they would first have to go through the Cajon Pass and then climb the back side of the mountains but it was a lot easier and safer for the horses and wagons.  Van Dusen's road was built for the grand sum of $1,500 and you didn't have to pay a toll.
From the top of the Cajon Summit, Van Dusen's road passed through the south end of Hesperia, crossed the Mojave River and then followed the northern rim of the Ord Mountains.  It roughly follows today's Roundup Way but this portion of the Van Dusen Road has been erased by modern development.  When the road got to Arrastre Canyon, it turned southeast towards Bear Valley (Big Bear) where Bowen Ranch Road sits today.  From Bowen Ranch Road to Big Bear, our trip traverses roads that were built on top of the original historic road.
More…

Pictures
Below are some pictures of what you will see along the way.
The meadow near Big Pine Campground
Shop for

Big Bear

 items
Scroll down to see and shop for items related to Big Bear Lake from Amazon.
Books Recommended on Amazon
Road Trip
As mentioned, you'll want to take a good map or GPS unit with you.  We used an off-the-shelf Magellan GPS and it showed the road the whole way.   Unlike roads in other desert and mountain areas, 3N14 is well labeled on Google Maps and most GPS's using all the names we've mentioned.  The total trip distance is roughly 23 miles (one-way) and can easily take half a day, depending on how many times you stop and enjoy the views and scenery.
For those coming from the L.A. Basin, take I-15 over the Cajon Pass (and appreciate that the old toll booths disappeared after 1880).  Exit I-15 at Bear Valley Road (recognize that name?  Yep, Big Bear's original name) and turn east (right) towards Apple Valley.  Continue on Bear Valley Road through some 30 traffic lights for almost 10 miles and turn right at the very last traffic light – Central Road.  Continue south on Central for 3 miles and turn left onto Ocotillo Way.  Now heading east once again, you'll reach Bowen Ranch Road in 2.3 miles.  Turn right (south).
When you reach the intersection with Roundup Way, reset your odometer to zero.  You'll be passing through the community known as Apple Valley Marianas.  Soon after, the road dips down into Arrastre Canyon, (an arrastra is a primitive mill used for grinding gold or silver ore) passing some ranches along the way.
At 2.1 miles, bear left onto Coxey Road which will be signed 3255 (the BLM designation).  Here, the road begins to climb steeply.  At about 4 miles, you'll pass through a large boulder field and a small spring which is obvious by all of the greenery near the road.  At 5.3 miles, you'll pass by the horse stables of Oak Springs Ranch.  Here you can rent horses and a guide and enjoy the mountains with the original "off-road" transportation – the four-legged variety.
Shortly after the ranch at 6 miles, make sure to look behind you for a sweeping panoramic view of the desert, from the Cajon Pass to Apple Valley.  This will be your last glimpse of the desert before being swallowed up into the mountains.  Next, you'll pass through a long stretch that, back before 1999, was full of thick vegetation and trees.  Unfortunately, one of the largest fires in the San Bernardino Mountains wiped out all of that beauty leaving the barren landscape you see today.
At 10 miles from Roundup Way, the road passes Coxey Meadow – our road's namesake.  If you park here and find the opening in the fence line, you'll discover several ponds surrounded by a charming meadow.  When we passed through here in 1985, it was a meadow surrounded by lots of pine trees.  Now there are only a few of those old growth trees left standing thanks to that fire of 1999.  Coxey Meadow was the site of a large cattle ranch in the late 1800's.
Leaving Coxey Meadows, the road continues through similar terrain until it climbs a ridge and enters a small pine forest which is a reminder of what this area looked like before the fire.  At 14.7 miles, Big Pine Flat Campground is reached.  Firefighters fought back the flames of the 1999 fire so that trees would remain around the campground.  Located here are 19 campsites and restrooms.  This is a great place to take a break from your road trip and enjoy a picnic.  On the other side of the campground is another small meadow.
Continuing on 3N14 towards Fawnskin, you'll pass by some places on the left that people sometimes use for target practice, so don't be surprised if you hear gunshots.  Up ahead, you'll see a canyon and a high ridge where another fire, this time in 2007, destroyed more forest.  Here, you can still see hundreds of burned-out tree trunks standing up like toothpicks.  The pine trees in this entire area had been suffering from a bark beetle infestation for about 15 years which was the main reason for the forest's vulnerability to fire.
3N14 then descends into a canyon created by Holcomb Creek and, at 17.3 miles, it crosses Holcomb Creek and the Pacific Crest Trail (that famous hiking trail that goes from the Mexican to the Canadian border).  At 18.7 miles, the dirt of 3N14 switches to pavement as it enters forest and remains paved for the remainder of this trip.
At 19.2 miles, another campground is reached along with several private campgrounds.  Soon, you'll be driving by mountain cabins and, at 21.5 miles, our trip comes to an end in downtown Fawnskin on the shores of Big Bear Lake.  Here, you may wish to reward yourself with a meal at any of the cafés in town and definitely take in some deep breaths of the fresh mountain air.
Trip Map
The yellow line marks the approximate route.
Support Us
Help us fill up our tank with gas for our next trip by donating $5 and we'll bring you back more quality virtual tours of our trips!
Your credit card payment is safe and easy using PayPal. Click the [Donate] button to get started:
Like
Thanks!
You've already liked this