Black Rock Area in Joshua Tree
Often overlooked by tourists visiting Joshua Tree National Park, the Black Rock area doesn't see the same volume of people as other parts of the Park.  This makes it a nice place to enjoy some of the famous Joshua Tree landscape without all the crowds.  A variety of hiking trails through desert vegetation and with great views will be found at Black Rock.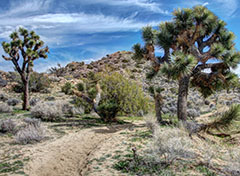 About Black Rock
The Black Rock area is located in the northwest corner of Joshua Tree National Park.  For that reason, it is not visited as much as the main part of the park, with its main roads and entrances near the towns of Joshua Tree and Twentynine Palms.
Although Black Rock is inside the National Park, it is only connected to the rest of the Park by hiking trails so you can't get there by using any of the main Park entrances.  It's actually very close to the town of Yucca Valley.  A great day trip itinerary can include a morning hike on one of the trails here and then a stop in Yucca Valley to enjoy one of several eateries and browse the antique shops or maybe a visit to nearby Pioneertown.
For those that like to camp, the Black Rock Campground offers about 100 individual camping sites.  It is convenient for tent campers, has easy access for RVs and there are showers and flushing toilets available.  Yucca Valley is close by so it's easy to get supplies in case you forgot something but, because the campground is nestled in a shallow canyon, shielding it from the town's lights, it's also a great place to enjoy those dark night skies.
Black Rock Campground is also the starting point for numerous hiking trails and, if you are just there for the day (not camping), there is no Park entrance fee.
The landscape around Black Rock lacks the well-known, large granite rock formations found in other parts of Joshua Tree National Park but it makes up for it with a lush array of desert plants.  And, at an altitude of around 4,000 feet, there are plants here that you might not expect to see in a desert.  Some of the plants you'll find are the Joshua Tree (of course), Mojave yucca, Parry's nolina, juniper trees, pinyon pines, oaks, and cholla cacti.  There are also the typical desert-dwelling animals here so keep your eyes open.
Hiking
Black Rock offers several plenty of hiking opportunities and at different skill levels.  It also offers trails for folks that ride horses.  The longest trail in the park, the 37 mile (59 km) California Riding and Hiking Trail, is particularly popular with equestrians.
Hiking trails meander all over the area and most begin at the Black Rock entrance.  A kiosk sign is located a short distance off the first parking area on the left (east) that maps some of the trails.   A small visitor center and ranger station is located mid-way through the campground where more hiking information can be obtained.
More…

Pictures
Below are some pictures of what you will see along the way.
Panoramic view of the Black Rock area
Shop for

Death Valley

items
Scroll down to see and shop for Death Valley related items from Amazon.
Make sure to watch video in full screen mode and HD 1080p quality!
---
Our Hike
On this trip, we chose the Short Loop Trail.  It's a 4 mile loop that starts and ends on the east (left) side of Black Rock Campground's parking lot.  The trail starts by heading south up the sandy wash of Black Rock Canyon and at about 0.7 mile, our trail bears left (east) into a tributary canyon of Black Rock.
The trail gradually climbs up the canyon and eventually heads east.  The vegetation becomes particular thick along here, so look around to see how many different plants you can identify.  At 1.5 miles, the trail reaches a summit and begins to descend into the next canyon to the east.  From the summit, make sure to enjoy the view, which includes Mt. San Gorgonio to the west.
Descending into the next canyon, you'll see less plant life here due to a fire from over 10 years ago.  Keep following the trail east until you reach a junction at 2.1 miles and a sign pointing to Fault Trail.  Turn left (south) here and, once again, the vegetation thickens.  This Fault Trail will take you over several ridges with some short but steep climbing and descending.
As the name implies, there is supposedly a fault trace along this trail that was created during the Landers earthquake of 1992.  Being avid geology hounds, we looked all around for the fault or scarp and didn't find anything.  There are very obvious and abrupt changes to the color of soils in one spot, a textbook sign of the existence of a fault, but no signs of any scarp or crevice.
Hiking now 2.5 miles from the start, the Fault Trail leads you onto the well-advertised California Riding and Hiking Trail.  This trail is popular with the equestrians and we ran across several people riding horses along this stretch of the hike.  This part of the trail heads west back towards Black Rock Campground.
The final mile of the trail passes through a large concentration of Joshua Trees and gradually descends making it easier on those leg muscles that have just negotiating the ups and downs of this trail.
Getting There
The Black Rock area is easily accessed from the town of Yucca Valley.  First, get to Yucca Valley by taking Hwy 62 to the junction of Hwy 247.  Hwy 62 starts off I-10 near Palm Springs.  Hwy 247 approaches Yucca Valley from the north and originates Barstow and near Victorville.
Once at the Hwy 62/247 intersection, turn south towards the mountains and Joshua Tree National Park.  Take this road to the end, about 5 miles (8 km).  The road ends at the parking lot for many of the hiking trails.  Driver a little further and you will find yourself in the campground.
Trip Map
Support Us
Help us fill up our tank with gas for our next trip by donating $5 and we'll bring you back more quality virtual tours of our trips!
Your credit card payment is safe and easy using PayPal. Click the [Donate] button to get started:
Like
Thanks!
You've already liked this