Bryce Canyon National Park in Utah has some of the most unique natural geologic formations on Earth.  Gazing down at the thousands of oddly shaped hoodoos from above is simply mesmerizing and an experience like no other.  Descending into the maze of hoodoos on a hike is an even more amazing experience.
The snow of winter brings an added dimension to Bryce Canyon.  Along with the seemingly endless shapes and patterns formed by those geologic formations, there is now snow mixed in with all the pinnacles and crevices.  The brilliant yellows, oranges and reds of the mudstones that make up the hoodoos are now contrasted with the bright white of the snow, making for even more dazzling views from the park's viewpoints.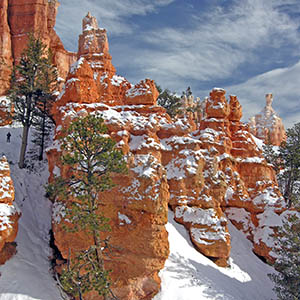 Snowy, Stunning Beauty
Hiking down into Bryce Canyon after an accumulation of snow can be challenging but the reward is worth it as you get to be in the middle of all the stunning beauty you saw from the canyon rim. Seeing, up close, how the snow highlights the thousands of little ridges and details of those colorful formations is almost surreal. It was like walking through a maze of small, sparkling fairytale castles in a wintery wonderland.
A visit to Bryce Canyon in the winter can easily be done because many of the paved roads leading to the park are frequently plowed and kept open. Bryce makes for a great day trip if you are visiting lower-elevation places such as St. George or Zion Canyon National Park or higher-elevation places like Cedar City or skiing at Brianhead. Ruby's Inn, located just at the entrance to Bryce, is a great place to stay if you can stay a day or more. We've stayed at the historic Ruby's Inn several times and there is a lot to see and do at the inn itself.
Bryce Canyon is at an altitude of around 8,000 feet, making it more likely to have snow on the ground when there is no snow at the lower elevations. The best way to check on snow conditions at Bryce is to call the park's visitor center or Ruby's Inn. Both are open year-round but keep in mind that in the winter their roads are often closed just beyond the good viewpoints so you can't see the entire park.
On our last winter visit, we decided to take that challenging hike down into the hoodoos with some of our "rental kids" (our term of endearment for our nieces and nephews). Our route started at the parking lot for Sunset Point and is a combination of about four separately named trails. It was a loop hike with a total distance of 3 miles and an elevation loss and gain of about 600 feet. Be sure to get a map at the visitor's center and ask the staff about the condition of the trails before you start. With our slow-to-moderate walking pace in the snowy conditions, it took us about 3-4 hours to complete the hike and there is no reason to hurry. Take your time and really soak in all that natural beauty! See our virtual video tour (details below) that includes an animated map of our hike and, of course, visions of that serene beauty.
We first did the normal "tourist thing" by taking in the view that is due south from the parking lot. You can easily spend an hour right there being dazzled by all the visually absorbing formations below.
More…
Pictures
Below are some pictures of what you will see along the way.
Shop for

Bryce Canyon

items
Scroll down to see and shop for Bryce Canyon related items from Amazon.
Books Recommended on Amazon
The Hike Begins
After we got our fill of the view, we found our way to the beginning of the Navajo Loop, which leads to the Queen's Connecting Trail. It starts at the very end of Sunset Point. Descending into the abyss below, this trail heads north, then hairpins back south and enters a deep narrow canyon. Near Sunset Point, there is another trail that leads down into what is called Wall Street Canyon, which we've hiked before in the summertime, but it was closed this time as it was covered in deep snow.
Because we were going to be hiking on the snow, we expected to run into problems with sliding and sinking into the powder. After a storm, this could certainly be a problem. But we took it very slow on the descent and managed not to slip or fall down. The trail was hard-pack snow from previous hikers and possibly some of the park staff. About 90% of our entire hike was on snow. We all had good hiking boots on (which definitely helps with traction) except for the one of us who decided that wearing furry snow boots was a good idea. Not a good choice as it turns out because they were not waterproof and her feet were soaking wet and cold at the end of the hike!
After we exited the narrow canyon and descended a bit, we traveled east and were able to look up at what we had been peering down on from the parking lot. It was a totally different perspective. The trail meandered through large pine trees and eventually into what's known as the Queen's Garden. Located here are hundreds of delicately formed hoodoos of many shapes and sizes. One trail leads to a group of hoodoos that some people think looks like a statue of Queen Victoria and her entourage.
Now on the Queen's Garden Trail, our route takes us gradually back up to the canyon's rim. Along this segment, there are more fun hoodoo mazes to pass through, including tunnels and narrow passageways. Occasionally, there are more sweeping views of the canyon's famous formations which look different at every turn.
The trail finally reaches back to the rim and, after the steep uphill climb, you arrive at Sunrise Point. Now it's just a half mile of level walking to return to the parking lot at Sunset Point where you started. Beware – It's difficult to pay attention to where you are going as you walk back because the views along the way are so stunning! It's especially dangerous for us photographers! There are many steep drop-offs close to the trail, so pay attention to where you step.
We hope that the description of our hike through the wintery wonderland of funny-formed hoodoos will inspire you to visit Bryce Canyon in the winter months or at any time of the year. Within a 100 mile radius of Bryce, there are many fascinating and beautiful places to visit in the western Colorado Plateau region of Utah.
Trip Map
Support Us
Help us fill up our tank with gas for our next trip by donating $5 and we'll bring you back more quality virtual tours of our trips!
Your credit card payment is safe and easy using PayPal. Click the [Donate] button to get started:
Like
Thanks!
You've already liked this