A Tour of Death Valley:
This is an introductory tour to the places to see and experience in and around Death Valley National Park.  We've all heard of Death Valley. Maybe, some of us have been attracted to the name Death Valley because there might be a hint of danger and adventure. Others may have been attracted to its unique features, such as its colorful geology and history.  But what is in Death Valley, what does it look like and where is it located?  Well, this virtual tour might just help you grasp just that.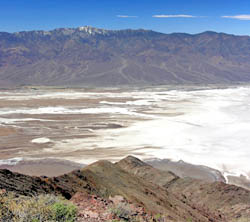 Extreme heat, extreme dryness and extreme beauty. It is one of North America's most unique regions and one of the biggest national parks. The combinations of geological forces here have created a magnificently rugged and colorful desert landscape that's surrounded by 11,000+ ft. snow-capped peaks making it a place without equal!
One of the many interesting facts about Death Valley is that the lowest spot in North America is located in Death Valley. What's even more interesting is that this lowest spot is only about 100 miles from the highest spot in the contiguous 48 states. Another fact about Death Valley that seems to surprise most people is that the harsh climate here is home to a wide variety of both plants and animals.
World's Hottest Place
On July 10, 1913, the daily temperature reading at Furnace Creek in Death Valley was taken.  It was 134 degrees (57 C).  Soon this was recognized as the hottest temperature ever recorded on Earth.  However, less than a decade later in 1922, 136 degrees was recorded in the desert of Libya.  Although Death Valley temperatures ventured into the 130 range several times since 1913, they never surpassed 134.
When the 2011 revolution in Libya exposed numerous government records, the World Meteorological Organization was able to determine that the 136 record taken in Libya could not have ever occurred.  Thus, the original record holder for the "world's hottest temperature" went back to Death Valley.  So what was Omar Gaddafi's loss ended up being Death Valley's gain.
Wildflower Blooms
One of the more popular attractions in Death Valley is its wildflower blooms that occur usually around March and April.  One of the biggest blooms in modern times occurred in 2005.  It occurred in late March and followed very abundant rainfall in December and January.  There was so much rainfall in and around Death Valley, that the dry lake bed of Death Valley, known as ancient Lake Manly, actually became a large lake for several months.
Predicting when a bloom will occur is tricky.  It usually follows 2-4 months after significant rainfall.  It also depends on where the rain occurred.  Some parts of Death Valley will be covered with flowers because this is where the rain fell.  Other parts, where rain didn't fall, may have very little flowers.  Other factors that would stunt a bloom is a cold (freezing) snap a month or two after the rainfall or high winds, which can both damage the fragile plants.
To time your visit during the next bloom, your best bet is to monitor the park's website at www.nps.gov/deva.
To see a previous of the flowers you may see and to learn a little bit more about them, see our separate article on Mojave Desert Wildflowers.
---
If you are planning a visit to this region that is not visited often, then you may be interested in learning more through our virtual tour guide.  You can learn more about our guide at our website.
More…

Shop for

Death Valley

items
Scroll down to see and shop for Death Valley related items from Amazon.
Books Recommended on Amazon
Travel Tips
Plan your trip! Death Valley is a very big place.  Don't even think you are going to see much of Death Valley during a weekend or 3-day trip.  Read up and learn about the things in Death Valley that interest you and then plan your trip accordingly.
Make reservations. Believe it or not, Death Valley is a popular place.  We strongly recommend that you make your campground or hotel reservations as early as you can. During the peak visitor season, October through March, places to stay inside the Park fill up quickly.  See Where to Stay below.
Remember – this is a desert. Bring and drink lots of water, watch for dehydration, dress appropriately, know the weather prediction before you go, find out where to hike and where not to hike, etc. There is lots to know.
Where to Stay
During the peak season from November to April, it's been our experience that things are booked up two to four weeks in advance and you'll have better luck finding reservations for weekday visits.  Just keep in mind that if you do head up there without reservations and can't find a place to stay, the next nearest place is an additional two hours away.
Below is a map of where hotels and facilities (eateries, gas stations, etc.) are located, both inside the park boundaries, as well as outside the park.
Click the [i] icon to reveal information.
Support Us
Help us fill up our tank with gas for our next trip by donating $5 and we'll bring you back more quality virtual tours of our trips!
Your credit card payment is safe and easy using PayPal. Click the [Donate] button to get started:
Subscribe
Submit your email address and we'll notify you when there is new content.
[subscribe2]
Like
Thanks!
You've already liked this