If you need a cool escape from the summer heat and want to enjoy some classic California coastline, Garrapata State Park near Big Sur, Carmel and Monterey is a great place to cool off.
Located along Highway 1, Garrapata State Park is not very well known but offers several great hiking trails and the choice of walking along the rugged coastline or through a Redwood tree-lined canyon.  As you'll see in our virtual video tour below, we chose to do both.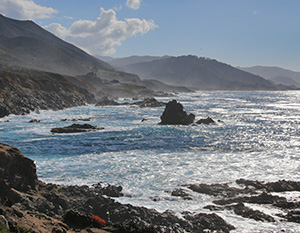 This small state park is on the northern edge of the large region known as Big Sur.  This northern edge is reportedly the foggiest section of coastline in Big Sur but when we visited in January, we were lucky with the weather as it was clear and the temperature was pleasant.  Typically, the foggiest months are in the summer and the clearest weather are the fall months.
Our accompanying virtual tour on YouTube will show you what the approach to the two trailheads looks like and then take you on both hiking choices mentioned above.  The coastline hike goes along the cliff-edge of the shore and overlooks the California Sea Otter State Game Refuge, where, you've guessed it; you might spot a sea otter or two (we did).  But, even if you don't see an otter, you'll likely see some other ocean wildlife and you'll definitely see some outstanding shoreline scenery.  The canyon hike takes you into a surprising, hidden dark forest of redwoods.
Getting There
Garrapata is located a short distance south of the popular towns of Monterey and Carmel.  It's only 4.5 miles south of well-known Point Lobos State Park.  The trailheads for the hikes are located along Highway 1, exactly 7 miles south of the intersection of Hwy 1 and Carmel Valley Road – a busy intersection outside of Carmel.
Garrapata State Park is not very developed.  There is no visitor center and its lone facility is an outhouse at the Soberanes Canyon trailhead.  There is no parking lot or sign identifying the park so it is easy to miss where to pull off of busy Highway 1 and park.  Keep your eyes open as you approach the area and look for cars (mostly locals, we suspect) parked at the trailheads.
Coastline Hike
Begin the coastline hike along the mighty Pacific by starting at the trailhead on the western side of the highway.  No less than 20 feet from the pavement, there's a trail junction.  Turn left.  Turning right is rewarding also, but the trail ends in about a quarter of a mile.  After turning left, you'll be faced with a grove of cypress trees that you'll need to duck under and walk through.  Just follow the trail through the grove and soon you'll be in the open, heading towards the ocean.  The distance of this hike is about 1.3 miles roundtrip.
The trail passes by some channels where you'll see turbulent seawater rush in and out with the waves.  You might be tempted to venture onto trails that head to the left, but stay on the one that hugs the short cliffs above the ocean for the best views.
More…

Pictures
Below are some pictures of what you will see along the way.
Shop for

Monterey

 items
Scroll down to see and shop for items from Amazon related to touring the Monterey area.
Books Recommended on Amazon
In about a quarter of a mile, the trail passes by a point where you'll be the closest to the two large rocks located about a half mile out into the ocean.  These are called Lobos Rocks and when we visited, the left rock was almost completely covered with sea lions.  To our surprise, they weren't all that noisy.
The trail continues south from this point for another half mile or more.  It climbs steeply over a higher cliff and then descends and heads out over another point giving great views of the rugged shoreline to the south.  When you're walking along this area, be sure to scan the ocean often and look for wildlife.  During our hike in the morning, we saw various birds, sea otters and seals.  And, because we were there in January, we also got the added bonus of seeing lots of migrating whales heading south!  What a special treat!
Soberanes Canyon
When you're finished with the coastline hike, return to where you parked your car,carefully cross busy Hwy 1, and start up the trail into Soberanes Canyon. This is the trailhead for our canyon hike. You'll pass by the one and only porta-poty in the area and an old barn which is all that's left of a large ranch from decades ago.
A short distance from the trailhead, as you head up the canyon, is a trail to the left. This is Rocky Ridge Trail. We did not take this trail but, if you like views and like a good workout (it's steep), you can hike up as far as you'd like and then turn around or continue on and make it into a loop trail by connecting it with the Soberanes Canyon Trail. The loop route is about 5 miles roundtrip with 1,800 feet of elevation gain.
The Soberanes Canyon Trail is both easy and very rewarding. This in and out hike along the creek is a steady climb and has a roundtrip distance of about 3 miles. It starts by passing through some typical coastal chaparral and cactus-covered hillsides and then starts to change after the second big corner.
After a few creek crossings and walking alongside thicker brush, you will see the redwoods in the near distance. As soon as you walk past the first big trees, you suddenly find yourself in a dramatically different environment. The rather thick forest of redwoods has created dark, shaded, almost spooky rainforest-like atmosphere with large ferns growing along the creek side. Small waterfalls along the trail add to the soundtrack to your hike and you almost expect to see mythical creatures pop out from behind some of the lush plant life. Finding this type of environment here was so unexpected and just added that much more to the enjoyment of the hike.
We did not go all the way to the end of the trail as we were running out of daylight so we turned around where the trail was beginning a very steep incline.
Poison Oak
The vegetation in the hills of this area, along with the vegetation near the shoreline, is riddled with poison oak.  We didn't see any on the hike along the shoreline, but we did see it scattered with other vegetation in Soberanes Canyon.  Point Lobos, just four miles to the north, is full of poison oak.  Make sure that you can easily recognize the leaves of poison oak and, before getting close to any vegetation, make sure to check for those classic leaves of three that are shiny sometimes red.

As you can see in these examples, poison oak is often hidden with other plants.  Its leave pattern of three leaves on a stem is similar to an oak tree, hence its name.  The leaves are usually shiny.  Younger leaves are bright green, whereas older leaves are red.
Trip Map
Support Us
Help us fill up our tank with gas for our next trip by donating $5 and we'll bring you back more quality virtual tours of our trips!
Your credit card payment is safe and easy using PayPal. Click the [Donate] button to get started:
Like
Thanks!
You've already liked this