A Tour of the Historic Harvey House in Barstow:
A stone's throw away from that popular historic road known as Route 66 and a little north of downtown Barstow lies one of the more historic gems that the Mojave Desert region has to offer – the Harvey House.  Originally named Casa Del Desierto (meaning "House of the Desert") when it first opened in 1911, this Harvey House was one of a network of restaurant-hotels built and operated by the Fred Harvey Company in conjunction with the Santa Fe Railroad.  Casa Del Desierto was one of the crown jewels along the Santa Fe route.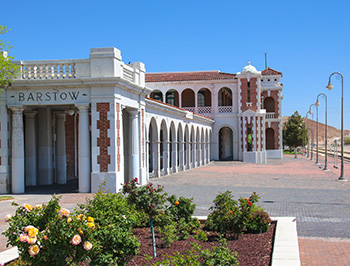 Harvey Houses were built out of the necessity to feed railroad passengers on their long journeys across the USA.  In the late 1800's, trains didn't have the ability to cook meals on board so the railroads built restaurants roughly 100 miles apart where passengers would disembark the trains to be fed and then continued their journey with a full stomach.
Fred Harvey began building his empire of restaurant-hotels after being awarded a contract by Santa Fe in 1878 and is credited with opening the first restaurant chain in the United States.  Most of the Harvey Houses existed along Santa Fe's railroad network, mainly along its mainline between Chicago and California.  Harvey's company was well-known for hiring young, single women from all over the country to work as waitresses and was the inspiration for the movie "The Harvey Girls" starring Judy Garland in 1946.
During the height of train travel popularity, roughly between the 1920's and 1940's, a passenger train stopped every 30 minutes at one of the eight platforms still visible in front of the Harvey House.  Just like a modern airport hub, passengers riding trains coming from points east, mainly from Chicago, would have to change trains at the Harvey House to continue their journey to destinations such as San Diego, San Francisco and Los Angeles.  Naturally, the same was true going the other direction.
Passengers entered the Harvey House through the main lobby and then chose to eat at one of the two dining rooms. The formal dining room, also known as the east-end ballroom, served breakfast, lunch and dinner. Back then, formal meant that men had to wear dinner jackets. If patrons did not have one, they could borrow one from a rack of jackets and then return it at the end of their meal. If you were not formally dressed, you could sit at a table but you wouldn't get any service.
The second dining room was known as the west-end dining room. It was less formal and there was no jacket required. It had an enclosed, semi-horseshoe shaped lunch counter that seated 50 people.
Both dining rooms were served by and connected to one kitchen located directly behind the lobby. This kitchen made its own ice cream and many other treats that couldn't be shipped in. It was a hive of activity as each dining room would typically serve about 150-200 people every 20 minutes.
Many well-known movie stars and celebrities passed through the Harvey House from 1920 until the beginning of the jet age in the 1950's. When you visit the Harvey House, it's fun to think about all of those famous people who walked on the same floors that you are now walking on.
In the early 1900's, railroads developed kitchen and diner cars and many of the Harvey Houses were no longer needed. Casa Del Desierto stayed open, however, serving as an important train station because Barstow was a key junction for Santa Fe.
More…

Pictures
Below are some pictures of what you will see along the way.
Panoramic view of the Harvey House
Shop for
Harvey House

 items

Scroll down to see and shop for Harvey House related items from Amazon.
Books Recommended on Amazon
When the era of classic rail travel officially ended in 1971 with the formation of Amtrak, none of the Harvey Houses were needed anymore and they all closed. Many were torn down and Barstow's Harvey House sat in disarray for over 15 years before the City decided to pour a significant amount of money into it. It reopened in 1999 and today the beautiful Casa Del Desierto building stands as its own museum and houses two other museums to show future generations how things used to be. The Fred Harvey Company still lives on today as Xanterra Parks & Resorts operating many classic facilities built by Fred Harvey such as El Tovar in the Grand Canyon and Death Valley's Furnace Creek Inn.
One of the other museums here is the Western America Railroad Museum which has two sections. One is outdoors where you'll see the retired railroad rolling stock (old rail cars) and the other is the indoor collection of railroading equipment, old pictures, paintings and even a massive collection of railroad nails.
The second museum is the Mother Road Museum showcasing the Route 66 lifestyle. The two museums are open Friday thru Sunday. The City of Barstow also leases office space for businesses that want to operate out of the Harvey House. The lobby, which houses the Chamber of Commerce, is open daily except for Sundays, for you to stroll through the beautifully restored dining rooms or visit the gift shop.
Getting There
To get to Barstow's Harvey House, take I-15 to the Barstow Road (Hwy 247) exit. Head north, down the hill, until Barstow Road ends into Main Street, which is Route 66. Turn left. You'll go through a few traffic lights as you pass through Barstow's old downtown. Turn right on First Avenue and head over the old steel bridge that crosses high above the many railroad tracks below you. You'll see the Harvey House on the right.
Whether you need a break from the drive to Las Vegas or are looking for a nifty day trip, we recommend a visit to the Harvey House. The best days to visit are Friday or Saturday as both museums and the Harvey House lobby are open on those days.
Support Us
Help us fill up our tank with gas for our next trip by donating $5 and we'll bring you back more quality virtual tours of our trips!
Your credit card payment is safe and easy using PayPal. Click the [Donate] button to get started:
Like
Thanks!
You've already liked this