Oregon is a great place to explore during a week-long road trip.  It makes a perfect vacation for anyone that needs to get away from work.  When compared to other states, Oregon boasts some beautiful and unique scenery including its Cascade Mountains, which are full of ghastly volcanic features, moist and mossy rain forests, scores of waterfalls, dozens of scenic roads and much more.  Our tour will give you just an appetizer.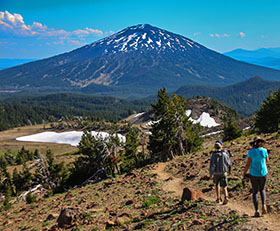 During the hot summer months, we're always looking for places to explore that are in cooler regions.  With free airline miles that we needed to use before they expired, we opted to visit a cooler region by taking a circular trip (in a clockwise direction) through the State of Oregon to sample its sights and scenery.
Portland
Oregon's biggest city, Portland, can easily be reached using several airlines from most airports.  Portland International Airport is both a commercial airport and an Air Force base.  Don't be surprised to see a Southwest 737 jet taxi down the runway next to an F-15 Eagle fighter jet.  The airport is one of the last to have its rental car center conveniently located inside the airport.  Our trip started and ended here, so we picked up our rental car and headed into town to see what Portland looks like.
For a town that has a tagline of "Keep Portland Weird", expect to see some unusual things that might catch you by surprise.  Some local Portlanders adopted the slogan about ten years ago and the concept stuck.  If you're lucky, you might see Darth Vader riding on a 10 foot unicycle or an orchestra playing on fire-breathing bag pipes.
Another thing that is a bit weird is Portland's street network.  It meanders in all kinds of directions making it a bit difficult to navigate.  Portland does have a good public transit system, including numerous light rail and streetcar lines, making it easy to see more weirdness.  If you like cities, you might plan to stay here for one or two days.
Columbia Gorge
Just east of Portland is the Columbia Gorge.  If you want to sound like a local, then simply refer to it as "the Gorge".  The Gorge was created by the mighty Columbia River.  To put this river that marks the border between Oregon and Washington into perspective, the Colorado River discharges about 22,500 cubic feet per second.  The Columbia River discharges 265,000 feet per second.  Now that's a river!
We started our trip up the Gorge by exiting the I-84 freeway at the cute town of Troutdale.  Guess what they fish here?  If you can't guess, then there are several statues of fish here that might give you a clue.  Before continuing, you may wish to spend a few hours enjoying the shops and eateries here.  There is also a good visitor center that offers information of what to see in this area.
From Troutdale, we found our way onto Historic Route US 30.  Just like we are proud of our Route 66 heritage, this area is proud of their old Route 30.  It is the route of choice to see the scenic Gorge instead of zooming along with the trucks on I-84.
One of the main attractions in the Gorge is all of its waterfalls.  The most famous is Multnomah Falls, which is the second highest year-round waterfall in the USA.  Driving US 30 will take you to most of the falls, or at least trailheads to get you there.  There are also numerous old historic bridges that are a marvel to look at.
We spent half a day hiking around and admiring the various waterfalls and viewpoints.  Expect to see a lot of tourists at Multnomah Falls.  Good luck finding a parking place!  Bonneville Dam is a few miles east of the falls.  Another hour or two can be spent here touring the dam, locks and fish ladder that is located on this huge river.
Mt. Hood
This famous sleeping volcano is a marvel to look at, either from afar or up-close.  From the Gorge, our loop through Oregon took us going south from the town of Hood River, to reach the town of Bend.  We passed right by Mt. Hood.
If you have time, there's a beautiful little valley between the Gorge and Mt. Hood with many scenic vistas with the pointed volcano in the background.  Look for Hwy 281 which meanders through this valley and parallels the main highway between Hood River and Bend.
One can't help notice Mt. Hood's steep and pointed crest.  Many geologists say this is a sign of a sleeping volcano that is ready to wake up.  The last major eruption was in 1781, with minor eruptions in 1805 and 1907 – not too long ago!  Mt. Hood hosts 12 glaciers.  During the last ice age 10-20 thousand years ago, these glaciers helped shape Mt. Hood's craggily look, which you will see when you are near the mountain.
More…

Pictures
Below are some pictures of what you will see along the way.
Panoramic view of Newberry Volcanic area
Shop for

Death Valley

items
Scroll down to see and shop for Death Valley related items from Amazon.
Make sure to watch video in full screen mode and HD 1080p quality!
---
Bend
Located in the center of the State, which many locals refer to as "High Desert", Bend is a great place to seek outdoor recreation and fine crafted beer.  Bend sits right at the edge of the forests that sweeps down from the Cascade Mountains.  Bend's skyline to the west includes several snowcapped volcanos, including The Sisters, Mt. Bachelor and Broken Top.  To the east are wide open plains.
Bend has a lively downtown area.  The vibrant Deschutes River flows right through town.  Just steps from the main drag, don't be surprised to see kayakers negotiating the rapids or standup paddleboards in the calmer spots.  The City even diverted a portion of the river to make constant waves, making it possible for people to surf on the river.
There are numerous hiking and biking trails all over Bend.  We opted for an absolutely gorgeous hike that took us to a glacial-fed lake inside Broken Top Volcano.  Hiking further up to a ridge rewarded us with an eye-popping view of about ten volcanos, including Mt. Adams in Washington.  That same ridge also gave us a birds eye view onto Bend Glacier, a treat you don't expect this far south.
Just outside of Bend are several scenic drives.  Cascade Lakes Scenic Byway starts just outside of Bend.  It skirts by several volcanos and passes many lakes and meadows.  Located just south of Bend is Newberry National Volcanic Monument.  This is a nice half-day trip to a recently erupted series of volcanos that includes two scenic lakes.  Make sure to stop at the Visitors Center located 11 miles south of Bend along US 97.
McKenzie Hwy
A big part of our trip through Oregon was to see the Willamette Valley.  That meant from Bend, we needed to cross the Cascade Mountains.  So we choose a scenic but narrow and twisty road that passes through dense forest and more volcanic landscape.
From Bend, we took US 20 to the town of Sisters, then turned left onto SR 242, McKenzie Hwy.  After 11 miles of driving through forest, the vistas opened up as the road passes through a basalt (dried lava) flow.  Several miles later, the road reaches McKenzie Pass.  Located here is Dee Wright Observatory, a stone structure that points out all the area's prominent volcanos, along with an interpretive trail that points out several volcanic features.
Descending the highway on the west side of the Cascades, it becomes very obvious which direction the rainstorms come from, for now the forest is very lush, including abundant ferns and moss.  The highway passes by Proxy Falls, which can be seen by taking a half mile hike from the pavement.
McKenzie Hwy continues down into the Willamette Valley on SR 126, but before going down that direction, take the short side trip north on 126 to Belknap Springs.  Here, a hot springs resort is a colorful oasis in a desert of green trees and moss.  Go for a stroll through their gardens or stay a night and enjoy the resort.
Willamette Valley
Now we continue on to the wine tasting portion of our trip.  Even if you're not into drinking wine, Willamette Valley offers an almost limitless supply of country backroads to explore with all types of scenery to enjoy.  We choose to stay in the university town of Corvallis which is located about halfway between Portland and Eugene or roughly in the center of the valley.
Willamette Valley is a large north-south trending valley with a river of the same name that drains a good portion of western Oregon.  The river accounts for 12 to 15 percent of the Columbia River's flow.  Thanks to the massive Missoula Floods that occurred 15,000 years ago, rich nutrients from the Canadian Rocky Mountains were deposited in the valley that greatly enriched the valley's soil.  This is why agriculture prospered here and later wine production became a booming industry.
Because of the cool environment and coastal fog that sweeps into the valley, two types of grapes thrive here – Pinot noir and Pinot gris.  Thanks to these two wine varietals, Willamette Valley is now known by most wine enthusiasts for producing quality wines from these grapes.  There are more than 500 wineries in the valley.  Roughly 70% of all wine production is of the Pinot noir grape, with Pinot gris trailing at 12%.  Chardonnay also grows well in this region.
Wine isn't the only reason to visit Willamette Valley.  Along with the collection of scenic backroads, there are numerous historical covered bridges to see, quaint little towns, cheese tasting, wildlife refuges and a world-class aviation museum that houses Howard Hughes's Spruce Goose.
After sipping our last sampling of wine at a winery not to close from Portland, we headed northbound on I-5, then I-205 and returned our rental car at the airport.  Sitting on the left side of the airplane, it was fun to watch a quick 15 minute review of our entire trip from roughly 25,000 feet as we flew back to California.
Planning a Trip
Our circular trip around Oregon took us about a week.  You may choose to spend more time in some places and less in others.  Before starting your trek to Oregon, be sure to use the Internet and research the different sights we wrote about, plus other areas that may interest you.
When you do embark on your trip, remember that there are many visitor centers along the way.  When you enter a town, look for signs pointing to visitor centers and information.  Be sure to stop in and inquire about different things to see and do in the immediate area.  We stopped in at a few centers and found out about things we didn't read on the Internet.
Trip Map
Learn more about our maps.
Support Us
Help us fill up our tank with gas for our next trip by donating $5 and we'll bring you back more quality virtual tours of our trips!
Your credit card payment is safe and easy using PayPal. Click the [Donate] button to get started:
Like
Thanks!
You've already liked this