Situated along one of Southern California's most well-known highways is one of its least-known botanical gardens – Rancho Santa Ana Botanical Garden in Claremont.   Many people who travel on Route 66 don't even notice the little sign that marks the entrance to this botanical garden that specializes in plants from its home state of California.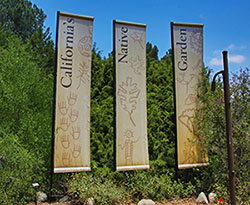 Location
A visit to these gardens is a great day trip from many points in Southern California – especially when you include a delightful stroll through the all-American, small town feel of downtown Claremont.  Both are within easy reach of the Foothill (210) Freeway – situated halfway between the 57 and 15 Freeways.
Finding your way to the Garden is pretty easy.  For GPS users, the address to Rancho Santa Ana Botanical Garden is 1500 North College Avenue, Claremont, CA. The entrance to the garden is off Foothill Blvd, Route 66.  From the 210 Freeway, follow these directions:
Exit on Base Line Rd
Whichever off-ramp you take, turn west on Base Line
In a short distance, turn left (south) on Monte Vista Ave
Continue on Monte Vista for 1 mile
Turn right (west) on Foothill Blvd
Continue on Foothill Blvd for 1 mile
Turn right into the entrance to the Garden
About the Garden
Rancho Santa Ana Botanical Garden is a private, nonprofit research and education institution devoted to California flora.  It was established in 1927 by Susanna Bixby Bryant in Orange County and was moved to Claremont in 1951.
The plants on display are native species or cultivated forms that were developed from them.  A few plants are ancient components of California flora or close relatives of the Garden's native species.  Many cultivated forms of native California plants that are used in landscaping today have been developed at the Garden through hybridization and selection.  Many rare and endangered species are also grown at the Garden and the staff conducts research to conserve these important, vanishing plants. 
Like other botanical gardens in the USA, Rancho Santa Ana Botanical Garden is a leading research center that studies botany.  They have an extensive library of botanical information used for California plant identification and a herbarium of preserved plants.  The Garden also offers a graduate program in botany through the Claremont Graduate School as well as community educational programs, lectures, tours and special programs for people of all ages.
The Garden has a long history of developing cultivars of California native plants.  Cultivars are plants or plant groupings that have been cultivated by selective breeding because of their desirable characteristics.  Of the more than 75 cultivars developed at the Garden, many have been used in the horticultural trade to the public.  Many of these plants have been selected, developed and named by the Garden's staff.
There are many walkways to meander along in the 86 acres that makes up the Garden and many of them are ADA accessible.  In less than an hour's time, you'll pass through many of the different California plant ecosystems – from the oceans to the deserts, from the valleys to the mountains.  Many of the native plants are grouped in clusters resembling the terrain that they naturally grow in.  There is a large area that is dedicated to the wildflowers of California and, depending on the time of year (and if we've had enough rain), the plants here may be blooming profusely.  Another large portion of the Garden has native plants growing in a more natural setting and allows for even more exploring.  Visit the Garden with good walking shoes and be ready to walk at least a mile or two on good solid surfaces.
More…
Pictures
Below are some pictures of what you will see along the way.
Shop for

Los Angeles

 items
Scroll down to see and shop for Los Angeles travel related items from Amazon.
Books Recommended on Amazon
Birds & Butterflies
Because plants and flowers naturally attract birds and insects, it is fitting that the Garden holds several bird walks throughout the year.  Participants try to catch a glimpse of some of the 147 species of birds that visit here.  They also have a butterfly pavilion that is open during certain periods where visitors can enjoy a hands-on and up-close experience with many species of butterflies.  Once a year, usually in August, they hold a butterfly release party where the butterflies that have been living in the pavilion are released into the open and become free for the first time!
Events & Nursery
The Garden regularly has events and exhibits going on so before planning your visit, be sure to check their website (www.rsabg.org) to see if your visit will coincide with any event or exhibit that may be happening.  They also allow events like weddings and parties.
Next to the Garden is a small nursery that is open to the public and sells native Californian plants.  This nursery gives you the opportunity to shop for unique plants that are not always found in neighborhood nurseries or big box stores and the proceeds benefit the Garden.  One or two times a year they also have a large plant sale when there is an even larger selection of unique plants to choose from.  Again, check the Garden's website on when the plant sales will happen.
Any time of the year is a good time to visit the Garden.  Naturally, springtime offers the most color with different types of flowers blooming from February until June but some species bloom in the fall, too.
Claremont
When you are worn out from walking the trails of the Garden, head over to nearby downtown Claremont to grab some food and recharge yourself.  If your feet aren't too sore, its fun to walk through this quaint downtown area and partake in some window shopping.  Claremont is a great little town for exploring on foot.
From the Garden, reach downtown by turning right out of the parking lot onto Foothill Blvd.  After a short distance, turn left (south) onto Indian Hill Blvd.  In about three quarters of a mile, turn right or left on 4th Street and look for a parking spot.
Once on foot, there are several streets that parallel Indian Hill Blvd that include shops and restaurants, including Indian Hill.  There are events held in downtown frequently.  Visit Claremont's website at www.thevillageclaremont.com.
Support Us
Help us fill up our tank with gas for our next trip by donating $5 and we'll bring you back more quality virtual tours of our trips!
Your credit card payment is safe and easy using PayPal. Click the [Donate] button to get started:
Like
Thanks!
You've already liked this