What's in a BackRoadsWest.com Virtual Tour Guide?
Our Virtual Tour Guides look and function much like this website. We use the power of technology to make it easy for you to navigate through our information-packed Guides with just the click of a mouse.
All of our Guides include several types of maps that are used to give you the most accurate information for the locations of the dirt roads and hiking trails we describe. We also use those maps to show you where the many pictures included in each Guide were taken. These pictures are the very best from our own personal library of thousands.
In addition to sharing our detailed knowledge of the roads and hiking trails of a region, our Guides include the history, flora and fauna and geology of that region. We also provide you with other valuable information like road conditions (including pictures whenever possible), area accommodations, travel tips, visitor information and much more.
We have blended all of these elements together to give you an easy-to-use, insightful Virtual Tour Guide.

How the Guides are organized
Each Virtual Tour Guide is of a particular region (like Death Valley). We organize that region into individual chapters (like a Road Trip or Hike) that are about a specific location and then each chapter is broken down even further into separate topics (like a Photo Tour or Map) relating to that chapter. By breaking-down the information in this way, you can easily locate the exact information you're looking for. We have also created chapters that are for more general information like history or geology.
Listed below are some of the different types of chapters and topics you'll find in every Virtual Tour Guide*:
| | |
| --- | --- |
| | Photo Tours |

One of our specialties! Come with us in both pictures and descriptions as we explore the Southwest. Click here to see a small sample.

| | |
| --- | --- |
| | Maps |

One of our most unique features! We use Topo USA and GPS to accurately locate all roads and hiking trails. Click Area Map or Interactive View to see a sample.

| | |
| --- | --- |
| | Hiking |

Let our pictures and descriptions "virtually" take you with us as we hike the canyons and trails of the Southwest.

| | |
| --- | --- |
| | Road Trips |

Let's go off-roading! This section gives you descriptions and pictures of the 4WD and lesser-known roads within each Guide region.

| | |
| --- | --- |
| | Geology |

Learn about both the general and specific geology of each Guide region.

| | |
| --- | --- |
| | History - the People & Places |

Learn about the unique history of each Guide region.

| | |
| --- | --- |
| | Photography |

When possible, we include the optimum time, place and season for photographing an area. We also tell you when our photos were taken.

| | |
| --- | --- |
| | Plants and Animals |

We include pictures and descriptions of the local flora and fauna of the region.

| | |
| --- | --- |
| | Lookup by Map or Place |

Use either of these tools to quickly locate a particular chapter in the Guide.

| | |
| --- | --- |
| | Ratings for Hiking Trails & Roads |

Every hiking trail and 4WD road is given a difficulty rating based on our personal experience. We also include pictures whenever possible.

| | |
| --- | --- |
| | References |

Check here for books, websites and more that offer more information,

| | |
| --- | --- |
| | Glossary |

Don't know what breccia, metamorphic rock or a lateral-slip fault is? We didn't either but we do now! Simply click on that unusual word and read it's definition in the glossary.
*Note: Because each Guide is about a unique area, not all Topics will apply to every Guide. We have, however, provided as much information as we can about every area. To see what Topics are included in each Guide, click the Guides For Sale button and click on the Topics Included link for each Guide.
We are, of course, very proud of our Guides as a whole but consider the Photo Tours and the Maps to be our most unique features. So, here are small samples of each. Click Sample Guide to see a complete Virtual Tour Guide sample.

Sample Photo Tour
They say that "a picture is worth a thousand words" and they are so right! How many people have visited the Grand Canyon or Zion National Park because of a picture they saw somewhere? Each Virtual Guide contains the best pictures from our library of thousands. You will be able to get a good "look and feel" for the area before you leave your driveway!
With each Photo Tour, you will be able to follow along with us as we take you, in pictures and descriptions, to our destination. Below is a sample Hiking Photo Tour from the Gower Gulch chapter of our Death Valley Virtual Guide. Try clicking on a picture to see a larger view! To see a more complete Photo Tour, see our Sample Guide .
| | |
| --- | --- |
| | The entrance to Gower Gulch. Because of Highway 190, Furnace Creek has been diverted into Gower Gulch. The deep wash seen here is the result of that additional water flow. |
| | Just inside the entrance of Gower Gulch, looking back across Death Valley towards the Panamint Mountains. |
| | The canyon walls have lots of colorful mineral deposits. |
| | Another example of the richly-colored canyon walls. |

Sample Maps
Here are two of our unique specialty maps. The Area Map shows you our route along with the various road and place names mentioned in that chapter's written description of the route.
The Interactive View Map also shows you our route but includes our innovative "blue dot" feature. We created this feature as a way to show you, with pictures, what the area looks like from the blue dot marked on the map. To see more of our maps, go to our Sample Guide.
Some guides also employ Google Maps to display trip information. Unlike the two static (fixed) maps below, these interactive Google maps are dynamic, giving you, the user, control of many aspects to the map.
| | |
| --- | --- |
| Use this Legend for both maps: | |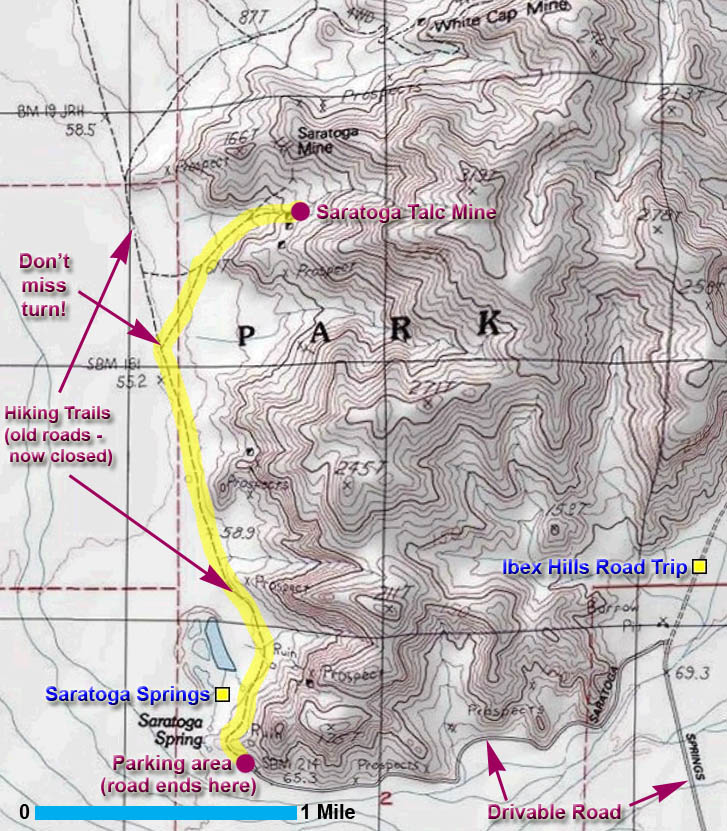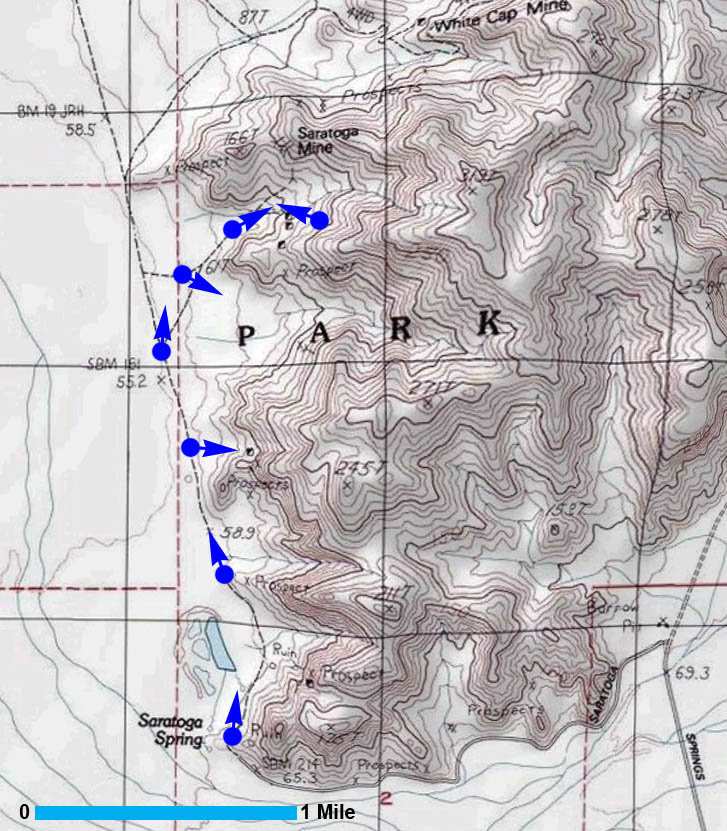 As mentioned above, some of our guides employ interactive maps using the free Google Maps service. Not only will you be able to control the map, such as zoom level and what map layers to use (i.e. Satellite, Terrain, etc.), we have also programmed it to show different points of interest along a trip.