We offer two different ways for you to purchase our Virtual Tour Guides. No matter which one you choose, you will get the same exact information. To purchase a Virtual Tour Guide and learn about what areas are included in each one, just click on the picture of the Guide you are interested in (see below).
Purchase a CD
We will mail you a CD that you install onto your computer. The advantage of ordering a CD is that, once installed, the Virtual Tour Guide information is available to you indefinitely and you don't need an Internet connection to access it.
If the CD is installed on a laptop, you can take your laptop with you on your trip and have access to all of the information (maps, road descriptions, hiking trails, photos, etc.) in the Guide. Think of how convenient it would be to have all of that knowledge right there with you when you need it!
Before ordering a CD, please read the system requirements, especially Apple users.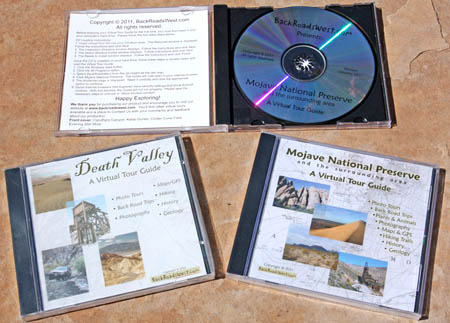 Click picture for larger view
Purchase a Subscription
We will e-mail you a unique user name and password along with instructions on how to access the Virtual Tour Guide on-line. For six (6) months from the issue date of your password, you will have unlimited access to the entire Virtual Tour Guide via the Internet.
The advantage of having a subscription is that you can have access to the Virtual Tour Guide immediately, you don't have to install anything on your computer, you will be always be looking at the most updated information and it is a little less expensive than a CD. Another advantage of having a subscription is that it will run on any computer operating system, including Apple Mac OS.
If you have any questions about the subscription process, please do not hesitate to Contact Us.
Death Valley National Park is world famous for its extraordinary desert scenery as well as its classic Western mining history. There is something spectacular to see in virtually every corner of this amazing park!
Just click on the picture to purchase and read about what areas are included.

CD Price: $20.00
(plus shipping & applicable sales tax)

Subscription Price: $15.00

A new addition to the National Park System, the Mojave National Preserve is a region with a remarkably diverse landscape. The variety of flora and fauna found in the Preserve is unsurpassed anywhere else in the Mojave Desert!
Just click on the picture to purchase and read about what areas are included.

CD Price: $20.00
(plus shipping & applicable sales tax)

Subscription Price: $15.00