What is BackRoadsWest.com?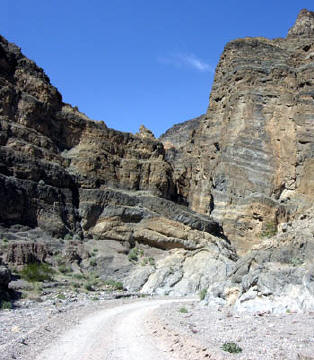 Titus Canyon, Death Valley
At BackRoadsWest.com, you'll find the most comprehensive Virtual Tour Guides available for the Southwestern United States. Use our Virtual Tour Guides to take a tour on your computer or to plan your next adventure. Not only will our Guides "virtually" take you to those hard-to-find places with beautiful pictures but the maps and descriptions will show you exactly how to get there!
Let us take you to those out-of-the-way places you've been looking for! Each Virtual Tour Guide includes not just pictures and maps of the area you want to visit but the history, geology, flora and fauna, hiking trails and dirt roads, too. Learn about a region before you ever leave your living room! See and read about what's at the end of that dirt road or hiking trail as well as what's along the way.
We know - we've been there. We have spent the past 15+ years roaming the Southwest - gathering pictures and information along the way. Each Guide is based on our personal knowledge of that area.
Come with us and explore the unparalleled beauty and wonder of the Southwest via the back roads! We will take you hiking and 4-wheel driving through the distinctive deserts, narrow slot canyons, classic old mines and historic ghost towns of the Southwest.
If you enjoy.....
| | |
| --- | --- |
| | 4WD or SUV Exploring |
| | Ghost Towns |
| | Hiking |

| | |
| --- | --- |
| | Nature and Geology |
| | Old Mines |
| | Photography |
....then these Virtual Guides are for YOU!
Our mission at BackRoadsWest.com is to develop and produce detailed Virtual Tour Guides for the many different regions of the Southwestern United States.
We felt that, rather than writing a book, the best way to present this information and give you that "virtual feel" was by creating a website-looking product.
Read What's Included next or go back to Home

Check out our Trip Blog to go on other trips as you sit back and we'll be your virtual tour guides.