There is so much important information that we want to share with you, about our Virtual Tour Guides and about us, that we decided to create a separate place for it all.
Let us tell you about:
Why did we create BackRoadsWest.com?
In a word: Frustration. Being back road explorers ourselves, we were constantly frustrated by either incorrect information and/or lack of any information at all. Most of the time, we just wanted to know "what is there to see in this area?" or "why would we want to go there?"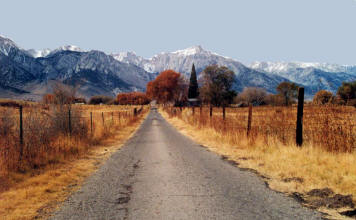 Finding the answer to those questions required time-consuming research from so many different sources - books, the Internet, old maps, etc. We spent many more hours on the researching of an area than we did in all of the other parts of preparing for a trip. A lot of the information we gathered wasn't written down at all; it was gathered by word-of-mouth from other explorers we met along the way, helpful Rangers or friendly people at the various Visitor's Centers.
Having spent years gathering information this way for our own travels, one day we thought how nice it would be if there was a single-source for all this. As we searched for this single-source, we quickly realized that such a thing did not exist. We just knew that other explorers must be having the same problem and be just as frustrated. So, why not create this single-source ourselves and share it with our fellow explorers? Why not put all that knowledge we had gained into a kind of travel/tour guide? A "virtual" tour guide!
As our idea took off, we realized that these Guides would also be a great way for us to share the awesome beauty of these out-of-the-way places with those who, for whatever reason, are not able to get out and go there themselves. We enjoy and appreciate nature so much - we are always amazed at what She can show us - her wonders are endless. We try to "take you there in pictures" and descriptions so that anyone using the Guides will get the "feel" of the area and, hopefully, enjoy it as we have.
Our Photographs
We love to take pictures but sometimes we don't have very many (or any at all) for a particular area. There are several reasons for this. Sometimes the lighting conditions aren't very good so we take the best pictures we can at the time; hoping we'll get back to that spot sometime in the future to take some better ones (and get them to you via What's New). Sometimes the beauty and grandeur of a place is just too much for us to capture with our cameras and it becomes one of those places you "just have to be there" to see. And, sometimes we don't photograph everything because we want to leave you a few surprises and let you enjoy the "wonder of discovery" for yourself. We hope to provide you with just the right balance between information and mystery.
Computer System Requirements
<![if !vml]>
<![endif]>To install our Virtual Tour Guide CD, your computer needs to run a Windows™ 98 or above operating system. If your computer runs a different operating system (like an Apple Macintosh), then you will need to Purchase a Subscription.
We have found that our pictures look their best when your screen resolution is set to 1024x768. We ask that, before viewing a Sample Guide or a Virtual Tour Guide CD, you check your monitor display settings and see what "resolution" you are using.
Your computer's display screen has the ability to let you view information at different "resolutions". Typical resolution dimensions are: 640x480, 800x600, 1024x768, etc. The higher the dimension values (resolution), the smaller the images get because more information is being displayed on the screen.
To check and/or change your computer's screen resolution, follow these steps:
| | |
| --- | --- |
| | Click Start. |
| | Click Settings. |
| | Click Control Panel. |
| | Double-click the Display icon. |
| | The Display Properties window is displayed. Click the Settings tab located in the top right of the window. |
| | In the Screen Area , click the slider and move it left or right until you see 1024 x 768 pixels displayed. |
| | Click OK. |
This should change your computer screen and give you the best "look" for our website text and pictures.
Apple Users
Our Virtual Tour Guides also run on Apple products, such as Mac and iPad. However, the standard CD only ships with a Microsoft Windows installer.
There are two ways to use our guides on Apple products.
One is to purchase a subscription. Then you can use our guides when your Apple is connected to the Internet.
Two is to special order an Apple CD. This CD will include the entire Virtual Tour Guide. Once you receive the CD, you will need to copy the files from the CD onto the hard drive of your Apple computer. Once the files are on your Apple, you can create a shortcut that will start the guide. Contact us before you purchase a CD copy of a guide so that we will send out the correct CD.
How to Install the Death Valley CD Onto Your Computer
Our December 2005 version of our Death Valley Virtual Tour Guide was designed to run directly from the CD. On some computers, CD drives are slow, which means our guide will run slowly. It runs much faster if it is installed directly on your computer. So if you would rather have the entire guide installed on your computer's hard drive (i.e. C drive), then click on the link below to open a PDF file and read the instructions.
Why we're different
Something you may notice about our Guides is that they tend to talk briefly or not include the more popular or well-known attractions of the area. There are two reasons for this. One is that we prefer to explore the less-crowded, off-the-beaten-path locations. The other reason is that those popular spots have already been photographed and written about many times and we want to offer you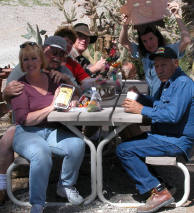 something different.
Our Thanks
We would like to thank all those who have helped us along the way in the creation of these Virtual Guides. We know that books have "dedication pages" and wanted to do something like that for our Guides. Thanks to all the helpful people we've talked to over the years - in museums, in restaurants, in Visitor's Centers and alongside the road. We have run into so many nice people over the years who were willing to spend some time with us and share their information freely. And special thanks to our friends - Jan, Bobbi, Connie and Ivan - and our families who were so patient when we asked them to "hold still" for the multitude of pictures we've taken.
Other people around the Mojave Desert we would like to thank are Rob Fulton of the Zzyzx Desert Studies Center for much of his input and geologist Lauren Wright for his guidance on geology.