Save this website as a favorite and check back for updates to your existing Virtual Tour Guides and to see what new Virtual Tour Guides we have completed.


You will also find any updates or corrections to our existing Virtual Tour Guides here. As we revisit some of the areas covered in our Guides, we will post any changes we find to the trails, road conditions, etc. here.

November 2011 - Our latest release, which is the January 2011 version of our Death Valley Guide, is now available on CD.

October 2011 - The beta test version our new travel planning blog on the Anza-Borrego Desert region is available and on-line at www.backroadswest.com/anza. Feel free to check it out.

June 2011 - We now have a blog for sharing more of our travels with you. The name of our blog is the BackRoadsWest: Trip Blog.

March 2011 - If you are currently using our December 2005 version of the Death Valley Virtual Tour Guide, we have instructions on how to install it directly on your computer. Read more...

February 2011 - Our Virtual Tour Guide of the Mojave National Preserve is finally finished! Click here for more information about it and how to purchase one.

February 2009 - Our new web page that offers free KML map data detailing our trips is now on-line. Currently, we have less than a handful of map data files available, but we will be adding more in the coming months. Read more on our Map Data web page.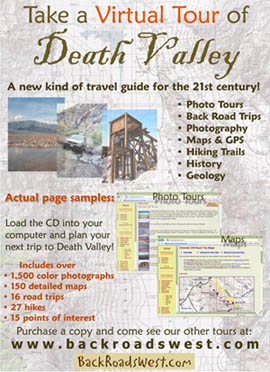 January 2009 - Look for our ad in The Sun Runner magazine's February issue. This magazine highlights many activities and places to explore in the deserts of Southern California. Check out their website on where to pickup an issue or be included in their distribution list.
November 2008 - Our Death Valley guide is now available at the following stores and museums: Death Valley Visitor's Center in Furnace Creek [see picture], China Ranch Date Farm and the Mojave River Valley Museum in Barstow. See our Links page for more information on these sites.
July 2008 - Our Internet hosting service has switched our website over to another server which took our website down for a few weeks. It is now back up. Sorry for any inconvenience.
June 2008 - Our Death Valley guide is now for sale at the Lone Pine Eastern Sierra Interagency Visitors' Center. The center is located just south of the town of Lone Pine at the intersection of US 395 and SR 136. For more contact information, please see http://www.fs.fed.us/r5/inyo/contact/.
2012 - We noticed that we erroneously have a link to a missing chapter on the townsite of Ryan. We were once scheduled to attend a tour of Ryan but the tour fell through. We added a chapter in anticipation of visiting this site and, although we removed the chapter, we forgot to remove the links. Ryan was the mining town of the borax mines located near the junction of S.R. 190 and the road to Dantes View. The property was privately owned by the mines that have been in operation nearby. Since the mines stopped working, the property around Ryan has been handed over to the N.P.S. and there has been discussions of making Ryan a new park attraction. At the time of this writing, there is no news on when this will occur.
2011 - The January 2011 release of our Death Valley Guide is now available both on-line (www.backroadswest.com/dv) and on CD.
2008 - The area around the Keene Wonder Mine, which is featured in several chapters of our guide, has been temporarily closed by the National Park Service. The dirt access road is simply closed from the pavement of Daylight Pass Cutoff. Read this page about the details or see the main NPS website for Death Valley in case the detailed page does not open.
2007 - New Entrance Fee - The guide currently reports the entrance fee to Death Valley as $10 per vehicle. As of 2007, the fee is now $20 per vehicle for 7 days. Please check the Fees & Reservations page on the http://www.nps.gov/deva website for the latest information including other fees.
2008 - Mosaic Canyon Boulder Jam - As you begin to enter the 2nd narrows, a large boulder has fallen to the bottom of the canyon making it difficult to continue up-canyon to see the additional cascades and dry waterfall. Smaller people can find a path under the boulder on the left side. There is also a fairly difficult route around and over the boulder on the right side. Since this is such a popular hike in the park, in due time a safer and easier route will be carved around the fallen boulder.
News about the Mojave National Preserve Guide
October 2011 - Our Mojave National Preserve guide is now available in Barstow at the Mojave River Valley Museum.
February 2011 - Our Virtual Tour Guide of the Mojave National Preserve is finally finished! Click here for more information about it and how to purchase one.