Some of the best fall colors can be found in Southern Utah. When people think of where to go to see the fall colors, they often think about visiting the states of New England or eastern Canada. But if you don't have the time or budget to travel that far, then there is an alternate place to go. That place is Southern Utah – a roughly five to six hour drive northeast of Southern California.
Utah may not have the brilliant orange and red maple leaves like Canada but it does have something that New England or Canada doesn't – lots of cottonwood trees – more than we have in Southern California. And, because Utah's cottonwoods get more water than ours, their fall colors tend to be brighter. Utah also has large stands of aspen trees that produce brilliant displays of yellow in the fall.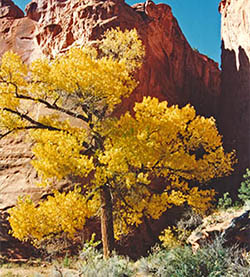 Plan Your Trip
When planning a trip to see Utah's fall colors, there is one important thing to keep in mind. Different trees change colors at different times, places and altitudes. And those changes typically happen soon after the first snap of cold weather. For instance, aspen trees are found at altitudes above 7,000 feet so it gets colder there sooner in the season, typically in mid to late September. On the other hand, Utah's cottonwoods grow at altitudes of 4,000 to 6,000 feet so the cold air reaches them later in the season, typically mid October to early November. This can make it tricky to schedule a trip if you want to see both types of trees wearing their fall colors. We think that going the last week of September and/or first week of October is your best bet.
Watch The Weather
If your schedule is flexible and you can take off on short notice, then we suggest paying attention to the weather in Southern Utah and watch for days when the overnight lows drop below 32 degrees (freezing). That would be your clue to leave for your trip in the next few days. The best way to monitor for those low temperatures is by using the ten-day forecast predictions at the Weather.com website. Search for Utah towns such as Duck Creek Village (highest), Panguitch (next highest), Escalante and Springdale (lowest).
When planning your trip, it's important to know where to go to have the best chance at seeing the fall colors and during which weeks. We'll do our best to reveal both to you in this article and our accompanying YouTube virtual video tour. We'll also include a Google map showing details of where to find stands of trees that turn colors.
Aspen Trees
As mentioned, the first trees to start the show in Utah are the aspens. These are the same aspen trees that are famous in Colorado and they change color at about the same time. Stands of aspens can be found in the mountains between Cedar City and Panguitch and near the towns of Brianhead and Duck Creek Village. We discovered a large stands of aspens north of the town of Escalante, along a scenic road named Hell's Backbone Road, and along Hwy 12 between Boulder and Capital Reef National Park, north of Escalante.
More…

Pictures
Below are some pictures of what you will see along the way.
Shop for

Utah Travel

items
Scroll down to see and shop for items related to traveling and touring Utah from Amazon.
Books Recommended on Amazon
Cottonwoods
Cottonwood trees can be found in just about in every canyon bottom in Utah. The bright yellow trees against Utah's famous red sandstone cliffs make for dazzling contrasts of color. Zion National Park is probably the most stunning and easiest to access of all the canyons. However, it's also one of the most visited (i.e. busiest) of all the places mentioned in this article. Elevation wise, it's also the lowest of all the places, meaning that the fall colors will most likely occur towards late October or early November.
Other places where cottonwoods can be seen changing color include the long north-south trending valley that Hwy 89 travels through from Kanab to Richfield, the many canyons of Grand Staircase Escalante National Monument, Canyonlands and Capital Reef National Parks.
Zion National Park
As mentioned, Zion Canyon is probably the most popular and stunning places to enjoy the fall colors. The entire canyon, from its mouth in Springdale to the end at the Narrows, is full of cottonwoods and other shrubs that turn color about the same time.
All along Hwy 9 from the town of Virgin to Springdale will also be lined with cottonwoods. So you don't even have to go into the park to enjoy lots of color.
Another fun drive to see fall colors but at different times in the fall is Kolob Reservoir Road. It passes along the ridge of different canyons as it enters and exits the park boundaries to the north. The road can be used to drive all the way to Hwy 14 out of Cedar City, where you might see stands of aspen trees turning color in late Septemeber.
Grand Staircase-Escalante National Monument
In Grand Staircase, there is a collection of canyons with names like Calf Creek, Burr Trail and Escalante Canyon that all have cottonwoods. All of these canyons are near the town of Escalante which is a great place to stay a few nights and use as a home-base as you explore the canyons.
We hope that this article has inspired you get out and see some magnificent fall colors that are not on the other side of the County but, rather closer to home. Visiting any of these locations in Southern Utah makes for a great road trip and, in the fall, they are virtually tourist-free (unlike the summer months).
Trip Map
Make sure to click all of the points that are plotted on our map.  These points include more information about what to look for when planning your fall color tour of Southern Utah.
Support Us
Help us fill up our tank with gas for our next trip by donating $5 and we'll bring you back more quality virtual tours of our trips!
Your credit card payment is safe and easy using PayPal. Click the [Donate] button to get started:
Like
Thanks!
You've already liked this