The Mother Road.  America's Main Street.  It would be a fair guess that everyone in the World has heard of Route 66. People make the trip down Route 66 to see the nostalgic sites and perhaps experience a once forgotten slower-paced lifestyle.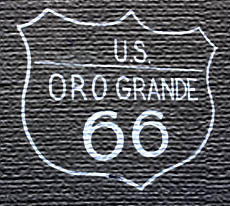 Many segments of the original Route 66 were literally erased when the more modern Interstate freeways were built on top of the old roadbed.  When engineers building the Interstate system found shorter routes to use, some old segments of Route 66 were saved and remain in use today.  Thankfully, some of the old nostalgia can still be seen along these segments, along with newer Route 66 pop-culture consisting of things that people have constructed after the highway was decommissioned in 1985.
The segment of Route 66 that stretches between Victorville and Barstow, which passes through the towns of Oro Grande and Helendale, is a great 38 mile (60 km) mini road trip that can be experienced when driving I-15 in Southern California.  Exit the busy freeway in either Victorville or Barstow and follow the signs for Historic Route 66 and get back on I-15 when you encounter it 38 miles later.  It's a great little break from any hectic road trip and there's plenty of nostalgia and pop-culture to see along the way.
About The Trip
Our virtual road trip starts at the California Route 66 Museum in Victorville.  It covers half of the segment of Route 66 from Victorville to Barstow.  This trip ends in the town of Helendale.   Keep your eye out for the other virtual road trip that covers the segment between Helendale and Barstow.
MAKE SURE that you are careful and mindful of the traffic along the route when you decide to pull over to take a closer look at the various sights. Between I-15 and Helendale, the road is very busy with traffic because of a large community near Helendale named Silver Lakes.   Furthermore, there is a lot of truck traffic that uses the road to access a large cement factory in Oro Grande.
We've written several articles on things to see regarding Route 66 in this area.  Click here to see a list of all our articles.
Route 66 Museum
If you have some time while you are in this area and want to learn more about Route 66, we recommend that you visit the fine folks at the museum in Victorville.  The California Route 66 Museum is well stocked with historic and interesting items related to the Mother Road. See their website for directions and when they are open.
The Trip
Starting at the museum in "Old" Downtown Victorville on D Street, head northeast towards I-15.  Make sure to watch the virtual tour to learn where you will see points of interest along this segment of the road.
Much of Route 66 that passes through California is also known as National Trails Highway.  In some cases, it's even known as National Old Trails Highway.  This is what it was originally named before it got it's official U.S. 66 highway designation.  Keep this name in mind when referring to maps and street signs.
Cement Plant to Steel Bridge
After passing underneath I-15, you can't miss the large cement plant on the right.  The roots of this large factory began around 1910.  Mining limestone around Victorville has been a key part of the local economy here for over 100 years.
Originally, this was called the Southwest Portland Cement Company.  It mined limestone from several quarries nearby, but now its main quarry is north of Apple Valley.  It is serviced by a private railroad. This mine is now owned by a large Mexican company named Cemex.
Hollandburger
Not far after the cement plant, you'll spot Hollandburger on the left.  This famous eatery has been in operation for decades, including the time when Route 66 was in full swing (before the I-15 age).  It is still owned by the same family today and is still a favorite among Route 66 travelers.  The eatery has been showcased on several TV shows.
If you are planning on making this road trip, try to schedule your trip for a breakfast or lunch stop here. You won't be disappointed and the waitress might just spill some mustard on you.
Shortly after Hollandburger, you'll notice a lot of power lines.   The oldest of these power lines were built in 1930 and are the main lines between Hoover Dam and Los Angeles.  Since 1930, many other lines have been built to help with increasing demand in Los Angeles.
More…

Shop for

Route 66

 items
Scroll down to see and shop for items related to Route 66 from Amazon.
Books Recommended on Amazon
Scroll-Comparison: Then & Now of Steel Bridge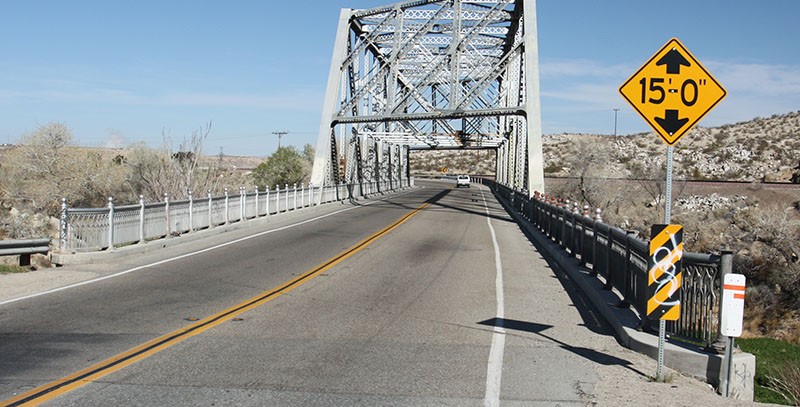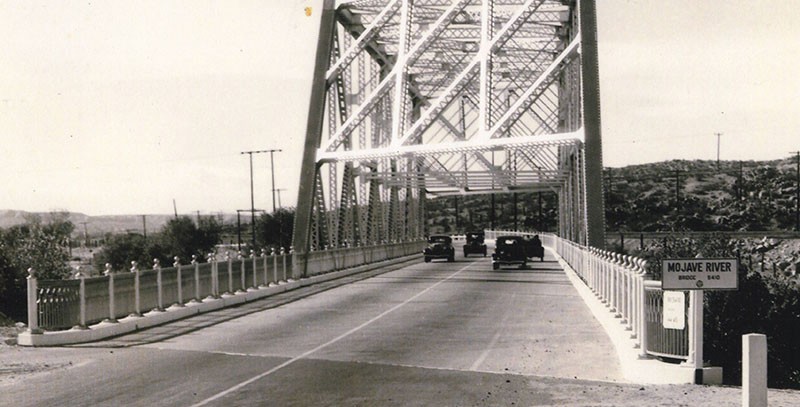 Click and move mouse back and forth to see a 1940 to 2011 comparison of the steel bridge.
Steel Bridge
The steel bridge that Route 66 crosses over roughly 3 miles from the museum is unique in many ways.  For one, it's design is unique whereas the steel trusses meet at odd angles because of the way the bridge was built over the Mojave River.  It is also the only bridge of this type that Route 66 crosses in California.  The railing along the roadbed exemplifies ornate ironwork that was common when the bridge was built in 1932.
Oro Grande
After the steel bridge, 1.5 miles of pavement later will land you in Oro Grande.  This is the oldest town in the Victor Valley.  It is the home of antique shops and another large cement plant.  Like Victorville, Oro Grande, which means "big gold" in Spanish, has been a mining town since roughly the 1880s.
Sammy's Eye
This segment of Route 66 contains some tales regarding the eye of actor/comedian Sammy Davis, Jr.  As many people probably know, during much of his carrier, Davis only had one eye.
On November 19, 1954, Davis was driving home to Los Angeles from Las Vegas late at night, when he lost control of his car and crashed.  Common in those days, Davis had a ball installed on his steering wheel to make it easier to turn the wheel.  When he crashed, Davis' head swung forward into the steering wheel and the ball crushed his left eye.
Many people claim that this crash occurred at the previously mentioned steel bridge or another spot – where the road goes under the railroad tracks just north of the town of Oro Grande.  The crash did not occur at either of these locations.  The crash occurred at the corner of Route 66 (Cajon Blvd) and Kendall Drive just south of Devore at the entrance to the Cajon Pass.  See our article on Route 66 in the Cajon Pass for more details.
Roy Rogers Ranch
Three miles after passing underneath the railroad tracks at Oro Grande, Roy Rogers and Dale Evens' Double R Bar Ranch can be reached by turning left on Bryman Rd.  It is a 1.2 mile round from Route 66 to see the old ranch where Roy and Dale boarded their animals.  Still today, there are festivals held at this ranch commemorating Roy Rogers and Dale Evans.
Bottle Tree Farm
There was once a famous Route 66 roadside attraction in Hesperia named "Hula Ville". It was located a mile north of I-15's current intersection with Main Street.  It was the crazy invention of Miles Mahan.  In the 1950s, Mahan, a retired carnival worker, bought two acres of land along Route 66 and began collecting and displaying various artifacts (aka junk) on his property.  It soon became a landmark for travelers traveling Route 66 towards Los Angeles, reminding them they were nearing their final destination.
Mahan began creating "bottle trees" consisting of bottles hanging from wooden posts. He called it his "Cactus Garden".  He also acquired a nine-foot metal sign of a dancing hula girl and he placed in the front of his property.  This is how Mehan's roadside attraction got its name.
Mahan's health deteriorated in 1995 and had to live in a rest home.  In 1996, the California Route 66 Museum dismantled much of the attraction and rebuilt it inside their museum in downtown Victorville.  So today you can still see much of Mahan's famous Route 66 landmark.
In 2000, a private landowner started his own bottle tree farm, which was inspired from Mahan's work. Today, you can see this new bottle tree farm 11.3 miles (18 km) from the trip's start.  There is no connection between the new bottle tree farm and the one Mahan created in the 1950s.
Sagebrush Annie
Another place of interest along this trip is called Sagebrush Annie or Sagebrush Inn. Located about 12 miles (19.2 km) north of the start of the trip, this cluster of very mature trees and old buildings that are now private residences is the site of many seemingly good times.  Supposedly, this area was outside of County law enforcement jurisdiction and several businesses popped up starting in 1930 that supported gambling and prostitution.
In 1932, construction began on the huge electrical power line project between Hoover Dam and Los Angeles.  These power lines and major switching station was seen on the trip just after passing the Holland Burger Cafe north of Victorville.  This project brought a lot of construction workers to the area for a number of years.
During the construction years, the businesses at Sagebrush Annie thrived.  The construction workers that mostly consisted of single men, ventured over to Sagebrush Annie for drink, gambling and women, all without the fear of trouble from the law.  After the construction years, Sagebrush Annie continued to thrive until the 1960s.  During these years, it became a roadhouse inn, dance hall and also a Texaco gas station.
Just like so many other businesses along this stretch of Route 66, after modern-day I-15 was built in the late 1960s, the number of customers dwindled and Sagebrush Annie couldn't survive.  Today, you can still see the roadhouse and gas station on the west side of the road, which is now a private residence.
Trip Map
Support Us
Help us fill up our tank with gas for our next trip by donating $5 and we'll bring you back more quality virtual tours of our trips!
Your credit card payment is safe and easy using PayPal. Click the [Donate] button to get started:
Subscribe
Submit your email address and we'll notify you when there is new content.
[subscribe2]
Like
Thanks!
You've already liked this