Titus Canyon is one of Death Valley's most distinctive canyons with a dirt road that passes through some beautiful desert mountain scenery, an extremely narrow canyon and is part of some unscrupulous Death Valley history. It is also one of the most popular off-road adventures in the Park.
Traveling this road can be quite an adventure.  At one point you're hugging the side of a steep mountain that might make those afraid of heights a little nervous.  At another spot, you're in a narrow canyon with towering vertical walls that rise up to over a thousand feet high and, in some spots, are no more than 20 feet wide!.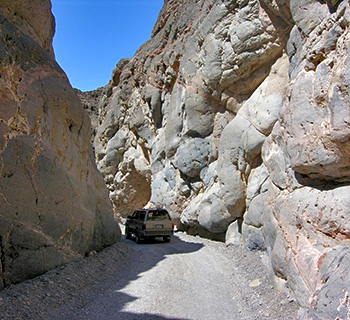 The Road
The road through Titus Canyon would probably never have been built if it weren't for a crooked mining promoter named Charles Courtney Julian. Starting on the Nevada side, the road was built in 1926 as a way to get investors to his "mines" and resulting town of Leadfield. As it turns out, Julian was responsible for one of the biggest mining scams in Death Valley history by taking in just over a million dollars in investor money for mines that never produced a cent!
Titus Canyon Road is one-way and travels east to west – Nevada to California. It starts on State Highway 374 (also named Daylight Pass Road) and the turnoff is located 6 miles from Beatty, Nevada, or about 23 miles from the Furnace Creek area. The road is dirt for its entire 25 mile length and passes over the rugged Grapevine Mountains of Death Valley. A typical driver takes 2-4 hours to travel it, depending on how many stops is made.
Although we've seen regular passenger cars on Titus Canyon Road, we strongly discourage it. There are many places where low-clearance vehicles will bottom out and it's hard to believe that a passenger car would get to the end of the road without a few dents or damaged suspension. 4WD is recommended but 2WD vehicles with high-clearance will make it just fine. As mentioned before, this road trip is quite popular, so unlike other 4WD roads in Death Valley, expect to see a fair amount of traffic on this road.
The first six miles of Titus Canyon Road passes through wide-open desert and can sometimes have a lot of washboard making for a teeth-rattling ride. Hopefully the Park Service has recently graded the road before your trip. In the first mile, if you look to the north, you might spot the skeletal buildings of the Rhyolite ghost town. At about 8 miles, the road crosses into California and, at 9.4 miles, it reaches the first summit of nearly 5,100 feet.
Titus Canyon Road then dips down into a small valley. This is the head of Titanothere Canyon. Looking left, you'll see that the small valley narrows into this canyon as it goes through the Grapevine Mountains on its way into Death Valley. The strange name of this canyon comes from a prehistoric creature whose fossilized remains were found near here. The creature looked like a large rhinoceros and used to roam this area 30-40 million years ago.
The road climbs out of the bowl, goes through a few switchbacks and goes over the highest point of the road which is the colorful Red Pass at 5,260 feet. Be sure to stop here, at the 11.8 mile mark, and enjoy the views including a look down into the top of Titus Canyon. Also stop and think about what an engineering masterpiece this road is, given that it was built hastily back in 1926.
More…

Pictures
Below are some pictures of what you will see along the way.
Panoramic view of Red Pass
Shop for

Death Valley

items
Scroll down to see and shop for Death Valley related items from Amazon.
Books Recommended on Amazon
Into Titus Canyon
While rapidly descending towards Titus Canyon, the road passes by the ghost town of Leadfield. Stop here and look over the few ruins that are left from one of Death Valley's most infamous stories of swindling and mining madness. A short distance past Leadfield, the road makes a 90° left turn and enters Titus Canyon. If you think the scenery so far was spectacular, just wait, it's going to get even better with steep, jagged and colorful mountain slopes that tower up from both sides of the road.
At about 16.8 miles, look for increased vegetation on the right. This is Klare Spring. A park sign points out Native American petroglyphs on a nearby rock. In the desert, petroglyphs are commonly found on dark-colored rocks near water sources.
At about 20.4 miles, the spectacular narrows of Titus Canyon begin. This dramatic section of the canyon is, at times, only as wide as the road itself! The sheer canyon walls tower over you as the road twists and turns for almost 2 miles. Along this stretch, try to pull off the road (to not block traffic), get out of your vehicle and spend a few minutes to look up and take in the scenery. The canyon ends very suddenly and for a moment you'll have to stop in your tracks to allow your eyes to adjust from the darkness of the shaded canyon to the stark brightness of Death Valley that seems to just appear in front of you!
You are now at the mouth of the canyon and the bottom/end of the trip. There are restrooms here and, starting here, the road becomes two-way. It is another 2.7 miles to the main paved road.
Located behind the restrooms is the beginning of a hike to another spectacular canyon called Fall Canyon. When we visited this area, it took us the entire day to drive through Titus Canyon and take in the 7 mile round-trip hike to the spectacular narrows and geology of Fall Canyon.
We hope this trip log encourages you to visit Death Valley and spectacular Titus Canyon.
If you are planning a visit to this region, then you may be interested in learning more through our virtual tour guide.  Check out our guide at our website.
Trip Map
Support Us
Help us fill up our tank with gas for our next trip by donating $5 and we'll bring you back more quality virtual tours of our trips!
Your credit card payment is safe and easy using PayPal. Click the [Donate] button to get started:
Like
Thanks!
You've already liked this