The State of Virginia has an endless number of wonderful back roads to explore. With the many historical sites from both the Civil and Revolutionary wars and its close proximity to all the attractions in the Washington, D.C. area, a driving trip around Virginia can be very rewarding.
For residents of the western USA, particularly those of us in the Southwest, a trip to the East Coast is almost like visiting a foreign country. The differences in landscape and history make for an intriguing trip for anyone not familiar with this part of our country. We've visited the Virginia and Washington D.C. areas several times and have taken the time to travel some of Virginia's back roads. We have been there at different times of the year and found stunning scenery around every bend of the small roads we traveled on.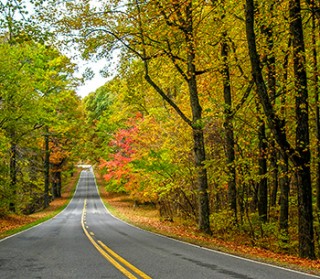 Starting Our Trip
Washington, D.C. is a great starting point when planning a trip to Virginia. There are three major airports in the vicinity and all the popular airlines use them. Our favorite airport is Regan National because it's not too busy and it is very close to DC. From Regan, you can jump on any of the major highways and quickly be roaming the rolling hills of Virginia.
During one trip, we used a hotel in Virginia (south of Washington, D.C.) as a base camp and made day trips to various sites in northern Virginia. Naturally, we used as many back roads as possible to reach our destinations. Rather than rely on GPS navigation to guide us on the most direct route or follow the thickest line on a map (usually an Interstate), we looked for the thinnest lines known as "secondary highways". In Virginia, these roads are typically numbered higher than 600.
On another trip, we planned our route to stay one or two nights in different towns along the way. That way, we were able to cover more area without having to return to the DC area every night. During this trip, we made a large circle around northern Virginia dropping in on several historical sites. Along the way, we again used our strategy of following the least direct route using secondary highways. Many times, we were traveling on paved or well-maintained dirt roads through lush farmlands and forested areas.
Fall Colors
We also planned each of our trips during different times of the year. Virginia has long been known as a great destination to see fall colors. During the fall months, you can't go wrong with following any back road to find fall foliage. Before planning your trip though, be mindful of the different periods when leaves change colors. Different places and different trees at different altitudes experience the changing of the colors at different times. Shenandoah National Park, with its Skyline Drive, is probably Virginia's centerpiece of fall colors. Including some or all of this long and skinny region in your plans is highly recommended. A general rule of thumb that we found was that the colors turn in western Virginia in mid-to-late October, central Virginia in late October to early November and eastern Virginia very late October to mid-November.
Spring Time
Conversely, we planned our other trip for spring to coincide with fresh new greenery and colorful blooms. We chose the first week of May. DC's famous cherry tree blossoms are tricky to plan for because of possible late snow storms plus they draw large crowds which we try to avoid. In Virginia, the spring brings a variety of tree and plant blooms at different times and they are spread out all over the state. One tree that we saw blooming frequently was the Dogwood with its delicate white flower. We also encountered countless other blooms along the way. The key to seeing these wonderful displays of color was to stay off the main thoroughfares and instead wander down the back roads. Not only will you feel less rushed but you can stop more easily (and often) to really take in some of the lovely scenery (and take plenty of pictures)!
Pictures
Below are some pictures of what you will see along the way.
Shop for

Virginia Back Roads

 items
Scroll down to see and shop for items related to Virginia Back Roads from Amazon.
Books Recommended on Amazon
History
Virginia has plenty of history to absorb, too. Along any back road, you are almost guaranteed to find one (or more) of the state's recognizable white and black historical markers pointing out a place of interest. Most of them mark events that took place during the Civil War. There are also several presidential libraries and former residences to visit, including many that belonged to our Country's founding fathers. These include George Washington, Thomas Jefferson and James Madison.
Historical sites involving the Civil War are bar far the majority of the signs you'll see along the road. For us, it was amazing to see how many events occurred in all corners of Virginia. If you are interested in Civil War history, make sure you watch a documentary, such as from Ken Burns for the History channel, before starting your back road tour of Virginia. Certain battles and events may interest you, so make sure you locate where those events occurred so they can be included in your trip.
East of Virginia's capital Richmond, along Highway 5 are several plantations that have been preserved and are open for tours. Many of these plantations were built before our Nation was born in 1776. We visited the Shirley Plantation which was reach via a short dirt road from Highway 5. Visiting one or more of these plantations is a great way to become immersed into and learn about Virginian history.
Where or How to Find Back Roads
There's no secret to finding back roads in Virginia.  Just open any map of Virginia and look for the highway numbers greater than 600 as mentioned previously.
Here are the areas where we found our favorite back roads in Virginia:
North of Leesburg, along US 15.  This is wine country.  Cabernet Franc is the popular varietal here.  When traveling north on US 15 towards Maryland, we explored several of the roads on both the east and west side of US 15.
West of Leesburg, along Harry Byrd Highway (State Hwy 7).  This is also wine country.
Around Harpers Ferry.  Some of the secondary roads leading into West Virginia can be fun too.  It is easy to incorporate a day trip west of Leesburg, explore some back roads and then end up in Harpers Ferry.
South of Front Royal: Shenandoah National Park.  Take I-66 out of Washington DC for about 65 miles and follow the signs to the national park.  Follow Skyline Drive for as long as you'd like.
Any of the secondary highways between Charlottesville and Appomattox, between US 29 and 15.
Road 600 between Farmville and Cumberland – watch those turns!
State Hwy 5 between Richmond (the State capital) and Williamsburg.  This is where many plantations are located.
There are many back roads in Virginia to explore.  These are just the few that we enjoyed during our two trips through Virginia.
We hope that our article might inspire you to travel to Virginia, rent a car and then enjoy the many scenic back roads and byways. For people that live on the West Coast, Virginia can really give you a sensation that you are visiting a foreign country that uses the same currency and has the same driving rules as any other State in the USA.
Support Us
Help us fill up our tank with gas for our next trip by donating $5 and we'll bring you back more quality virtual tours of our trips!
Your credit card payment is safe and easy using PayPal. Click the [Donate] button to get started:
Like
Thanks!
You've already liked this