Wine made from the Riesling grape in Germany tends to cause a lot of confusion to American wine drinkers.  German wine makers put several classifications on Riesling wine that describes its different styles.  Therefore, when purchasing a bottle of German Riesling, it is important to know these classifications.  After reading our article about our travels through the Moselle River region, hopefully you will understand these classifications, be more satisfied when you open that next bottle of Riesling, and appreciate the region the wine comes from.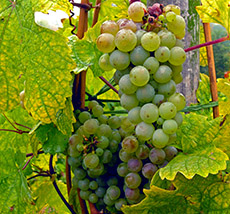 Anyone who knows us knows that we love wine and one of our favorite white wines is Riesling.  Webster's defines Riesling wine as "a white wine that ranges from dry to very sweet and is made from a single variety of grape originally grown in Germany".  This is an accurate statement but there's so much more to it than that.  Join us as we dive into this topic and try to understand this delicious wine.
Our confusion about Riesling happened every time we made a trip to any of our favorite big-box liquor stores.  We walk to the Riesling section and were immediately faced with so many choices within the "Riesling" varietal that we just didn't know where to begin or how to choose.  There were labels like Qualitatswein, Kabinett, Spatlese, Auslese and Eiswein.  What do they mean?  Is one sweeter or drier than the other?  What does "trocken" mean?  Why are some bottles so much more expensive than the others?  Unlike other wines, such as Chardonnay or Merlot, Riesling is the only wine that has so many categories.  There was obviously much to learn and so we set out to understand (and taste) those differences by taking a trip to the Riesling-producing region of the Moselle River in Germany.
Our Travels
Our first visit to Riesling country started with a river cruise that went down the Moselle and then up the Rhine.  The Rhine is a major river that passes through Europe and the Moselle is one of its tributaries.  On the cruise, we sampled the wines in each port and tried to compare them to each other.  We learned that Riesling is very "terroir-expressive" meaning that the character of the wine is greatly influenced by where it is grown and the type of soil it is grown in.  Much of the soil on the steep sides of the Moselle River Valley is made of slate and that flavor definitely comes through in the wine.  Riesling grapes grown in other areas do not have this distinctive flavor.
We also learned that Germans (and other nearby countries) have been growing Riesling grapes for hundreds of years and that it is very versatile.  This is probably one reason why there are so many different classifications and, in turn, why it is so confusing to many wine drinkers (like us).
At the end of this cruise we realized that, although we had picked up some knowledge, there was still a lot more to learn about this delicious but complicated wine.  We had also fallen in love with the quaint little villages and wanted to spend more time visiting the many "weinstubes" (German for a wine bar or cellar) and "weinguts" (winemaker or vineyard) as well as sample more of the delicious local cuisine.  A return visit was a must!
So, a few years later we were back to Germany on a road trip through the Moselle River Valley.  We would concentrate our efforts in the area of two towns, Bernkastel and Zell, and be traveling with our cousin living in Holland.  Our cousin is an avid hiker, speaks fluent German (unlike us) and was only a quick train ride away from us.  We flew into Dusseldorf, drove two hours to Zell, picked up our cousin at the train station, and began our wine adventure!
Zell
We spent our first full day exploring Zell and hiking into the vineyards that ascend steeply behind this picturesque town.  Zell is known for producing its own style of Riesling known as Zeller Schwarze Katz, which translates to "black cat from Zell".  Legend has it that when wine merchants tasted the local wine, they couldn't decide which barrel tasted the best.  Suddenly, a black cat jumped onto one of the barrels and arched its back, seeming to protect the barrel it was on.  They chose that barrel and the legend and icon of Zell was born.  Today, winemakers from Zell include some form of a black cat on their labels and the tourism agency cleverly uses a drawing of a black cat toasting a glass of wine as their logo.
Our hike through the vineyards above Zell was amazing and very steep.  There were two trails to choose from – normal and advanced.  The advanced trail required the use of ladders and ropes to climb up the cliffs so we decided to stick with the "normal" route.  At the top, we had great views looking down at Zell, the Moselle River and the endless vineyards up and down the river valley.  We continued the hike into a forest where there were so many birds singing that it was almost deafening.  We descended back down into a village just past Zell where our cousin insisted that we stop at a little place and have some Spargelsuppe (white asparagus soup) and, dare we say it in wine country, a glass of Bitburger beer.  Both were delicious!  It was the perfect end to our long hike.
Pictures
Below are some pictures of what you will see along the way.
Shop for

Death Valley

items
Scroll down to see and shop for Death Valley related items from Amazon.
Make sure to watch video in full screen mode and HD 1080p quality!
---
Bernkastel
The next day we took the 30 minute drive up the Moselle River Valley to Bernkastel.  If you purchase bottles of Riesling here in the States, there's a good chance it was produced along the Moselle.  And if it was, there's also a good chance that the bottle has the words Bernkastel-Kues on it.  These are twin towns located on each side of the river – Bernkastel on one side, Kues on the other.  Bernkastel is the tourist town with all the weinstubes and Kues is the industrial town from where the wine is shipped.
And if you do buy some of the wine made here, notice that the names of many winemakers from Bernkastel start with "Dr.".  For instance, a popular brand of Riesling found here in the U.S. is Dr. Loosen.  The legend goes (yes, another legend and supposedly there are several of them) that an archbishop traveling through the area a couple of centuries ago became quite ill.  His staff had given him all types of bad-tasting potions to help but nothing worked.  Then the local winemaker offered a barrel of his best wine.  The archbishop tasted it, really liked it and, miraculously, it seemed to heal him.  In return for the winemaker's successful efforts, the archbishop declared him and all the other winemakers in Bernkastel to be "doctors" and generations after them are still permitted to use that title.
Our hike through the vineyards of Bernkastel was much easier than in Zell.  We were lucky to be hiking during the harvest time and got to watch the workers pick grapes and dump them into carts.  Our route took us to another neighboring village named Graach where we stumbled across a wine museum.  The proud owner took us on a tour through his collection of equipment that all smelled of musty grapes.  Certain buildings in Graach also pointed out the different high-water marks from the many historical floods over the centuries before the river was controlled by locks.  One mark from 1572 recorded the water as going over the top of a building's front door!
Trip Summary
We thoroughly enjoyed our visits to the Moselle region and would recommend it to anyone – even if you don't drink wine.  One other discovery we made on these trips is that the Germans really know how to make Riesling.  They've truly mastered everything there is to know about that wine.  Rieslings from other countries may be made from the Riesling grape and have their own style and taste, but in our opinion, none are as good as a Riesling from Germany, or more specifically, from the Moselle region.
Wine Education
Now for the educational part of our story.  As mentioned, one of the main reasons we traveled to Germany was to learn more about the wine we love – Riesling.
On our first trip to the Moselle, we arrived with limited knowledge of the classifications and the various types of Riesling.  We left even more confused.  On our second trip however, we finally talked to the right people at various wineries and left from this trip more educated.  What you'll read next is what we learned.
Keep in mind that the word "Moselle" is spelled two different ways: Moselle, which is the way it is referenced in most American writings, and Mosel, which is the German spelling.  You will encounter the "Mosel" spelling also in some American writings.  Both spellings refer to the same river and wine producing region.
Where Rieslings are Produced
Similar to many French wines, bottles of Riesling usually reference the small area or village it came from.  In German, the letters "er" placed on the end of a name means "from".  As mentioned earlier, one of the more common towns that Riesling comes from on the Moselle is Bernkastel.  So a bottle that was produced by a winemaker in Bernkastel would have the name Bernkasteler written on it.
For instance, we were familiar with a type of Riesling that was called Piesporter.  We felt it had characteristics that tasted different than other Rieslings but didn't know why.  Imagine our surprise when we stumbled across the town of Piesport, which isn't too far from Bernkastel.  Sure enough, weinstubes in Piesport were selling wine with the name Piesporter on the bottle.  Piesporter is the style of Riesling put out by the winemakers around Piesport.
Sweetness & Dryness Levels
Along with the richness classifications of Riesling explained later, the Germans have a way of classifying the wine's sweetness or dryness levels.  Rieslings are known in the U.S. as being sweet, but they can be dry too.
Just like other wines, the sweetness level depends on the amount of residual sugar in the wine after it is bottled.  This would have been how the winemaker planned it.  That amount of sugar drives the level of sweetness to dryness as listed and translated below:
Trocken – Dry
Halbtrocken – Half-dry
Feinherb – Off-dry
Lieblich – Semi-sweet to sweet
Most bottles marketed in the U.S. do not include these sweetness levels on the label.  Levels will be a guess when buying wine in the U.S.  In the U.S., it's a good bet that most Rieslings well be in the off-dry to semi-sweet to sweet (feinherb to lieblich) range.  In Germany, these words are usually labeled on the bottle or at least on the store shelfs the bottles are sitting on.
What Food To Eat
It is a known by foodies that Riesling wines are the wine-of-choice when eating spicy dishes, such as Thai, Chinese Szechwan and Mexican.  After taking a bite of spicy food, a swish of Riesling will literally douse the flames that are burning in your mouth following the spiciness.  The sweeter and richer classifications work best, such as Kabenett and Spätlese.  The next time you plan to eat spicy food, plan to have a bottle of Riesling standing by instead of a fire extinguisher.
Wine Classifications
As mentioned, German Rieslings is one of the only wines that have these classifications.  Each of the classification can have a direct bearing on the flavor of the wine.  Therefore, it is important to be aware of these classifications when buying a bottle of Riesling from Germany.  Rieslings produced in other countries typically do not use any classification – it's just Riesling wine.
This "pyramid" chart demonstrates the production levels (how much of each is produced) and the names of each Riesling classification: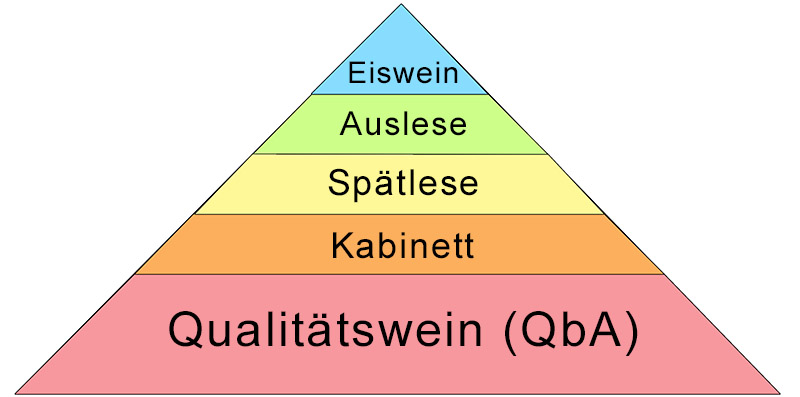 Qualitätswein
Translated from German, this word simply means "quality wine".  Sometimes it is abbreviated QbA.  It is the entry-level quality of Riesling.  Ironically, the name quality wine, doesn't necessarily mean the best quality.  Qualitätswein is the largest quantity of this classification of Riesling produced.  Roughly 60-80% of grapes grown in the Moselle region are for Qualitätswein production.  The remaining 20-40% percent contains all of the other wine classifications explained later.  Often, grapes used for making Qualitätswein is the bulk of the harvest and is typically picked before the grapes are ripe.
When you see the word Qualitätswein on a bottle, it means that its contents are of this classification and nothing else.  Most likely, the winemaker that produced this bottle has a higher quality classification of Riesling also.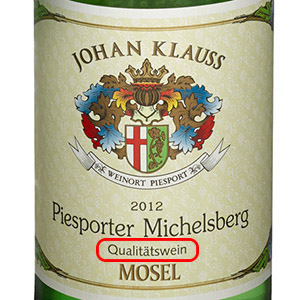 Kabinett
Translated, Kabinett literally means "cabinet", meaning a winemaker's special reserve that is kept in a special cabinet.  It was made from the winemaker's special choice of grapes.  Unlike Qualitätswein, grapes for Kabinett are typically harvested when they are fully ripe, which adds to its rich flavor.
Typically, Kabinett is semi-sweet (lieblich) with crisp acidity.  However, it can be dry, which should be specified so on the bottle.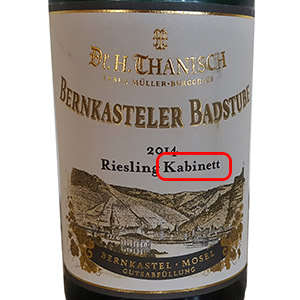 Spätlese
Spätlese is usually made from late harvest grapes.  To most wine drinkers around the world, "late harvest" usually means sweet desert wine because when the grapes remain on the vine after being fully ripe, they suck up more sugar from the plant.
But just because Spätlese is made from grapes that were harvested late beyond their ripeness period, doesn't mean it's going to be sweet.  In fact, many Spätlese wines are not as sweet as one would expect and the wine from the grapes actually have a richer taste.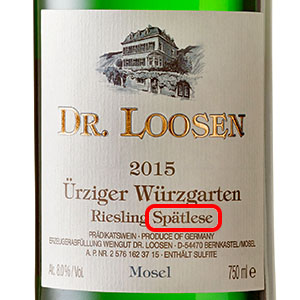 Auslese
Auslese is Riesling made from very ripe grapes that were typically hand selected by the vintner.  Hand selecting grapes means finding the grapes that the winemaker knows will yield the best quality wine.  This will mean an even richer wine but not necessarily more sweet.
Since these grapes are hand selected, it means a lesser volume of Auslese is produced.  We've found bottles of Auslese priced under $10 per bottle to as high as $50.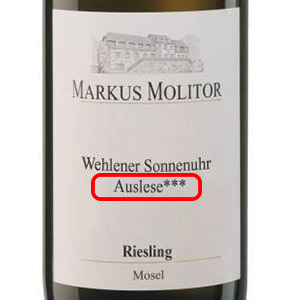 Eiswein
And finally, Eiswein, which, translated literally means ice wine, is wine made from grapes that were picked just after they were frozen by Mother Nature.  Eiswein is very concentrated, giving it a rich texture and is very sweet.  Eiswein is usually considered desert wine and usually comes in 375 ml (half) bottles.
Most wine makers along the Moselle require their grapes to be picked just after they are frozen, which is usually around 2 to 4 in the morning.  Often, sirens and bells are sounded throughout the village, summoning volunteers (who usually don't pick grapes) to quickly pick the frozen grapes in the darkness.  If the frozen grapes are still on the vine when the sun comes up and are thawed, the quality of the Eiswein would be lost.
Don't confuse Eiswein with Canadian ice wine.  The Canadians also make very good ice wine, however it usually is not made from Riesling grapes.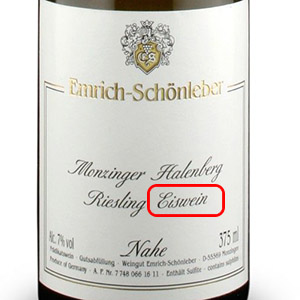 ---
We hope that the information we have learned and gathered here has made you a smarter Riesling drinker, as well as feel inspired to visit this wonderful part of Germany.
Happy traveling and drinking!
Map
Learn more about our maps.
Support Us
Help us fill up our tank with gas for our next trip by donating $5 and we'll bring you back more quality virtual tours of our trips!
Your credit card payment is safe and easy using PayPal. Click the [Donate] button to get started:
Like
Thanks!
You've already liked this