Some of the most spectacular and colorful wildflower displays that we've ever seen were in the San Juan Mountains of southwest Colorado.  The blooms typically occur during mid-summer at elevations above 11,000 feet.  On this trip, which was the last week of July 2015, we were lucky to explore this area after a long period of rainfall.  We're not sure if it was because of the rain, but the week we visited, we saw so many different types of wildflowers, and large quantities of them, that we were incredibly awestruck.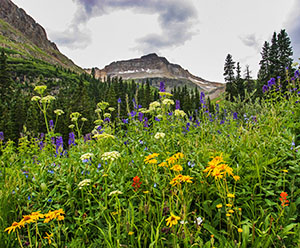 In this article, we'll explain where we encountered these outbursts of wildflowers.  Where flowers once bloomed prolifically before, the old blooms will drop their seeds and hopefully, if the conditions are right, repeat these same spectacular blooms in later years.  The maps in our virtual video tour on YouTube below, as well as the map at the end of this article, will point out where we saw these blooms.
The San Juan Mountains Area
The areas we visited are located near a trio of former mining and railroad towns: Ouray, Silverton and Telluride.  What makes the San Juan Mountains unique when compared to other high and rugged mountain ranges, like the Sierra Nevada's of California, is that you can drive into the San Juan's and enjoy their beauty up-close and personal.  Although there is one main paved highway that will take you through some wild mountain scenery, most of the roads into the mountains are rugged and unpaved – meaning you need to have a 4WD vehicle and know how to use it.  It's on these rugged roads where you'll see the best scenery and wildflower displays.
We opted to stay a week in Ouray, the "Jeeping capital of the World".  We stayed an entire week, because it takes that long to see and explore the different areas located high in the mountains.  From Ouray, dozens of roads lead off the pavement and up into high mountain basins and passes.  Each of the basins or passes takes almost an entire day to explore.  The views are spectacular where ever you look – up at the steep mountains or down from atop the mountains onto the landscapes below.
The wildflower blooms that we encountered were at higher elevations.  This is most likely because we were visiting in late July.  Perhaps other flowers bloom at lower elevations earlier in the season.  When we were on a road that passed the 11,000 foot mark, there were open meadows loaded with flowers.  It was breathtaking!  We noticed by reading our GPS that in most areas the flowers would begin blooming around 11,000 feet and fizzled out around 11,800 feet.  It was just a few hundred feet higher to the timber line and the stark, tree-less landscapes.  Even on the stark and barren mountain tops above 12,000 feet, small plants and flowers, known as tundra, clung to the rocks.
Planning Your Trip
Trying to plan a trip to the San Juan Mountains to catch a wildflower bloom is very tricky and is similar to guessing when to visit and see Colorado's spectacular fall colors.  Since it is very common to have winter snow blocking the roads until late June, as well as periods of monsoonal rains in early summer, it's best to plan your trip for the last week of July or early August.  This should increase your odds of being there during the wildflower season at the higher elevations.  Just remember though, you can never second guess Mother Nature!
Another attribute of the San Juan's that you can see anytime (unless they are covered in snow) are the colorful peaks of the Red Mountains (known simply as Red Mountain #1, #2 and #3).  These three peaks are located halfway between Silverton and Ouray and, like many of the mountains in this area, are abundant with minerals that have oxidized (rusted).  These bright orange minerals give the mountains their name (although we think they should be called the Orange Mountains).  We've made no modifications to our pictures – this is how they really look.  The drive over Corkscrew Gulch is a good way to get a good look at these unique mountains.
The pictures we've included in this article, along with what we included in our virtual video tour, are just a small sample of what we saw and enjoyed.  However, no picture can really do justice to the genuine beauty of these mountains and their environment.
More…

Pictures
Below are some pictures of what you will see along the way.
Shop for

San Juan Mountain

 items
Scroll down to see and shop for items related to the San Juan Mountains region from Amazon.
Where We Saw Wildflowers
Here are the locations of where we found the wildflower blooms.  It seemed that blooms occurred in specific areas, which was probably driven by soils, water availability, daily shade to sunlight ratio, etc.  None of these areas seemed to be greater than a square mile.
To access these areas, one would definitely need a 4WD vehicle and have experience on how to maneuver over the rough roads.  For those that don't own a 4WD or care to chance taking their vehicle on these roads, the three towns mentioned all have companies offering tours of the various areas and even special wildflower tours.  The nice thing about taking one of these tours is that you ride on their 4WD and then enjoy all the scenery while they do the driving.
Yankee Boy Basin
The most well-known area for wildflower spotting, which is fairly close to Ouray, is Yankee Boy Basin.  Although accessed by a precariously-looking dirt road, which is very steep, passes by sheer drop-offs and several rock overhangs, the road is usually in very good shape and can be traversed by 2WD vehicles.
From downtown Ouray, take the main road south out of town (towards Silverton) and turn right onto Camp Bird Road, which is just after the first 180° switchback.  You might spot a sign that points to Yankee Boy Basin and Box Canyon – this is the turnoff.
Continue up Camp Bird Road for 6 miles until the turnoff to Imogene Pass.  Up to this point, the road is passable by pretty much any type of vehicle.  Shortly after 6 miles, the road passes the active Reward Mine.  After that, the road gets a little more difficult but is still passable using 2WD.
It was between the road to Imogene Pass and the Reward Mine where we encountered a large field of purple aster flowers.  There were other small fields of wildflowers on the right side of the road, growing on the steep slopes of Potosi Peak.
At 7.5 miles, Twin Falls is reached.  Here is where we encountered a huge wildflower bloom.  This is probably the location of where most blooms occur that makes Yankee Boy Basin famous for wildflower viewing.  The road past this point becomes very rocky and steep.  If you don't have a 4WD with high clearance, don't go any further.
The road continues for another 2 miles, where it ends at a trailhead.  Along these 2 miles, we encountered more fields of wildflowers, even above the timberline where trees stop growing.  These fields didn't cover much space, but they were covered with an array of dozens of types of different colored flowers.
Imogene Pass and Basin
Another wildflower area similar to Yankee Boy Basin is the road up and over Imogene Pass.  This road ends in Telluride.  In our experience, most of the wildflowers are found on the north side of the pass, which is named Imogene Basin.
Imogene Pass is a very difficult 4WD road and should be left to the experts.  From Camp Bird Road described previously, take the turnoff to Imogene Pass.  The difficulty of the road starts almost immediately.
The patches of wildflowers we encountered was about 2.5 to 3.5 miles from Camp Bird Road, beginning at the 11,200 foot level.  We kept encountering patches until about 12,000 feet.  All the flowers we encountered after that, and Imogene Pass is at 13,114 feet, were blooming from a variety of small plants known as tundra.
Corkscrew Gulch
This road starts off east over the Red Mountains from the main paved road (Hwy 550).  The turnoff is located about 7.5 miles south of Ouray.  As mentioned, this road takes you into the heart of the Red Mountains and offers spectacular views of these uniquely-colored mountains.
Although it starts off a little rough and steep, Corkscrew Gulch is an easy road for the novice 4WD driver and will boost anyone's confidence once they reach the top.  The road does require high clearance 4WD.
We encountered patches of wildflowers in random areas.  One of the biggest patches we found was on the east side of the pass that Corkscrew Gulch Road goes over.  This was at the top of the main drainage that heads south and turns into Cement Creek.
Velocity Basin
Another nice area we visited which is close to Corkscrew Gulch is called Velocity Basin.  This place is not on many maps and therefore not known by many people.  One can easily enjoy a day of exploring around Corkscrew Gulch, Velocity Basin and a few of the other neighboring canyons and abandoned mining camps.
Velocity Basin is reached by taking road 110 north out of Silverton or heading south after passing through Corkscrew Gulch.  Road 110 ends near an active mining area, which on some maps shows as the ghost town of Gladstone.  The road that comes down from Corkscrew Gulch also meets at Gladstone.  Locate a small road that heads south from the mining area that follows the obvious canyon that leads to the south.  There are no signs.  A GPS would be helpful.
From the mining area, the small road, which is quite easy and does not require 4WD, continues 1.5 miles south to a parking area.  Unlike Yankee Boy or Imogene Basins, here you'll feel like you are in a real mountain basin – enclosed in a bowl of rugged mountain peaks all around you.
The focus of Velocity Basin is its small snow-fed pond.  Often, it is partially iced over.  If there was ever a feature that closely resembles a glacier in the Rockies, this is it.  All along the shores of the pond is prime rich soils for wildflower growth and it is quite wet.  When we visited, we enjoyed a large field of white flowers interspersed with larger purple flowers.
---
We hope our report of seeing wildflower blooms in the San Juan Mountains have inspired you to schedule your trip at the right time to this very scenic area.  There is a lot to see in the greater Colorado Rockies, but the San Juan Mountains is a microcosm of what the Rockies has to offer.  You can easily spend several weeks and still not see every hidden gem that the San Juan's has to offer.
Trip Map
Support Us
Help us fill up our tank with gas for our next trip by donating $5 and we'll bring you back more quality virtual tours of our trips!
Your credit card payment is safe and easy using PayPal. Click the [Donate] button to get started:
Like
Thanks!
You've already liked this